Some Southampton fans have been discussing a video about Stuart Armstrong and James Ward-Prowse and who scored a better free-kick in training.
The Saints Twitter account posted a video recently and it had Ward-Prowse and Armstrong score from free-kicks in training. The videos played side by side and the same post asked fans to rate as to which free-kick was the better one.
Many Saints fans made it clear that Armstrong's free-kick was better and they have nothing against Ward-Prowse as such.
Maybe I'm biased

— ??? (@TheTrueFraudie) March 16, 2020
Whose free-kick was better?
Armstrong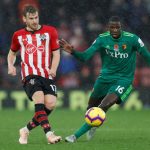 Ward-Prowse was better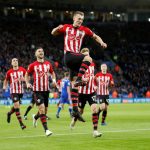 Sorry @Prowsey16 but it's gotta be Stuart ?

— Bridgey (@Bridgey1982) March 16, 2020
Not only his hair is nicer… ? pic.twitter.com/E5zEPMM1LO

— Swiss Saints (@Gion_Swiss) March 16, 2020
Stu deffo

— Lewis (@cameron61101543) March 16, 2020
One Saints fan was confused and didn't know who to pick out of the two midfielders. One slammed them for being able to do that in training only.
Dead heat for me! #cantchoose ?

— Together as One (@pennycotton0) March 16, 2020
Shame they can only do it on the training ground ?

— Mike Harper (@jollyenglishmw) March 16, 2020
This season, Ward-Prowse has made 35 appearances in all competitions for the Saints. He has racked up a tally of four goals and five assists during this period.
As for Armstrong, the former Celtic man has made 25 appearances in all competitions so far for the club. He has scored three goals, with all of them coming in the Premier League itself. The goals came against Aston Villa, Crystal Palace and Leicester City.
What do we think?
The vote seems to clearly show which free-kick was better. Armstrong has four votes, with Ward-Prowse having none. In that sense, he probably deserves to win the competition.