Some Southampton fans have been left talking by the latest season ticket update that the club posted on social media.
The club recently announced that they have postponed the planned announcement for existing Season Ticket holders until normality resumes. They also said that the club is awaiting future developments in an attempt to resume the matches.
The club's Twitter account relayed this information and it got many Saints fans talking. Some were happy with the decision.
Imagine my shock ????

— Sam (@sammysfcb) March 25, 2020
This is the correct decision let's all wait and see what happens. I doubt they will have all the answers yet so no point in asking imho

— David SFC (@davetherave103) March 25, 2020
Entirely sensible.

— Jon Shapland (@Jon_Shapland) March 25, 2020
Is this the right decision from Southampton?
They've got it spot on They got it wrong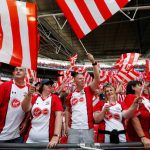 prices going up then!

— Steve Jones (@fleetsaints) March 25, 2020
I'll tell you what will happen. The prices will increase the EXACT same amount as the 4 game credit.

— IsaacJ (@thatplateguy1) March 25, 2020
Saints dont do that. Behave

— emancipated African (@emancipatedAfro) March 25, 2020
The Saints are currently at 14th in the Premier League and have 34 points in the bag. Despite that, Ralph Hasenhutt's men are only seven points clear of the relegation zone.
The Premier League was recently temporarily suspended due to the outbreak of the pandemic. But some days ago, the suspension was extended till the end of April and no games will be played till that point of time.
What do we think?
It is the right approach from the club, considering there is still uncertainty about when the games will be played next. Not just that, it is sensible considering the Saints are still in the thick of things around the drop zone. Once their Premier League status is secure, they can announce season tickets for next term depending on the division they're in.