A lot of Newcastle United fans have responded to a tweet from Mark Douglas about Mike Ashley.
The Evening Chronicle reporter said that he 'still can't get over the breathtaking arrogance of Ashley and his company'.
This was after Sports Direct revealed that they would stay open as they thought they were 'uniquely well placed to help keep the UK as fit and as healthy as possible'.
The government have closed all 'non-essential' shops to the public to help stop the spread of this virus, but incredibly, Ashley attempted to keep Sports Direct open.
Is this one of the worst things Mike Ashley has done?
Yes No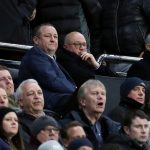 The backlash was monumental, and he has now decided to close his stores, but this has still annoyed these Toon fans.
Still can't get over the breathtaking arrogance of Ashley and his company to send this at 1am, when the country's in a state of emergency.

There are some things more important than profit. https://t.co/taDMzsM7f6

— Mark Douglas (@MsiDouglas) March 24, 2020
The Chronicle should be hammering him

In times like this, we need to turn the screw, when we have national attention, otherwise we will fall back to the status quo

— Dell ? (@agbnufc) March 24, 2020
I hope this is the turning point against Him and his ways – forget Nufc this just shows him in his true light

— David Redpath (@RedpathDavid) March 24, 2020
Other Newcastle supporters were angry but not surprised at the actions of their owner.
We've known he was a snake for years, I don't understand the shock that everyone seems to show. It's actually laughable that you are all surprised by this.

— Danny Doom ?? (@DannyDoom333) March 24, 2020
Disgusting but unsurprising. Hopefully this will open a few more pairs of eyes to what type of man he is.

— Tom (@TomNUFC21) March 24, 2020
Anyone who's been paying attention to sportsdirect and Ashley won't be surprised by this

— Ali Pericles (@ali_pericles) March 24, 2020
I am surprised by your reaction… as if we don't know what's the more important thing for MA ! At least now everybody can really see with whom we a are dealing here !

— Dan NUFC82 (@dan2882) March 24, 2020
I'm speechless, but not shocked, have we learned nothing of this man from the past decade? But then again, we're "lucky to have him" aren't we, Rio

— Michael Bell (@mickbell38) March 24, 2020
What do we think?
The fact Ashley even attempted this is disgusting in our view, and we think he should be ashamed of himself.
George Caulkin pointed out that by trying to keep shops open, he was risking lives just for profit – which we think is despicable.
It will be interesting to see what happens now, but we don't think Ashley should get away with this.