Liverpool fans on Twitter have been reacting to recently posted footage of Xherdan Shaqiri. 
This comes after Liverpool fan Twitter account @TheRedmenTV shared a post on their official page of a video originally posted on the winger's Instagram account of the Switzerland national team singing the song 'Imagine'.
Has Xherdan Shaqiri flopped at Liverpool?
Yes, he hasn't been good enough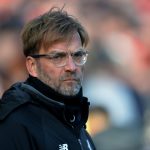 No, he's just been unlucky with injuries Twitter user @mialfc then shared Shaqiri's part of the video on their Twitter page, which was then picked up by @TheRedmenTV.
This post then gathered a number of replies from Liverpool fans who were eager to share their immediate reactions to Shaqiri's singing skills.
Here's a sample of Liverpool fans responding to the post:
Just going to leave this here….pic.twitter.com/Owl66VTAvW

— The Redmen TV (@TheRedmenTV) March 25, 2020
Bless his heart. At this point, we are all Shaqiri.

— LiverpoolLover?????? (@ghawtho1) March 25, 2020
I really don't want him to leave

— Niall Mclaughlin (@Littlemog98) March 25, 2020
No wonder he hasn't played, he isn't injured he's gone mad ???

— ???Steven Foy??? (@RedStevo78) March 25, 2020
The 28-year-old's singing abilities didn't impress a lot of Liverpool fans who took this as an opportunity to have a little bit of fun at Shaqiri's expense.
@XS_11official what a voice ?

— Kat (@tripp874) March 26, 2020
Please tell me he is drunk lol

— Steve Cutler (@stevecuts) March 25, 2020
You've been in far to long son ??

— Paul (@aspo1972) March 25, 2020
What do we think?
It's nice to see these Liverpool fans having a light-hearted giggle at Shaqiri's attempt at singing. With all English football suspended for the foreseeable future, it's good to see footballers keeping themselves occupied and being active on social media so the fans can interact with them.