Liverpool fans have been reacting to a Twitter post by Empire of the Kop in which Luis Suarez, Raheem Sterling and Philippe Coutinho are all pictured with the caption 'too much loyalty in one photo', along with a snake emoji.
The trio have all since left Anfield for the likes of Barcelona and Manchester City, but some of these supporters believe that not all of the aforementioned players deserved to be labelled as snakes.
Only Sterling is the snake here

— Noah? (@VirgilVanNoah) March 24, 2020
Dont blame Luis for leaving, the other 2 are snakes tho

— Brett P (@btp34) March 24, 2020
Just coutinho and sterling

— antho (@lfcheartt) March 24, 2020
Are Suarez, Sterling and Coutinho all snakes?
Yes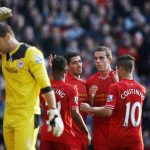 No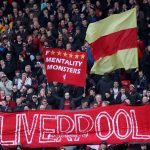 Why Suárez?

— Nacional #72688 (@OfficialTecha13) March 24, 2020
sterling the only snake here, suarez did amazing for us and dreamed of barca, coutinho i'm guessing wanted to play for them too. tho suarez did cause controversy w the racial abuse towards evra which was horrible but he wasn't a snake

— lemi (@lemigod) March 24, 2020
Only Sterling is a snake

— Cal (@RedsCaIIum) March 24, 2020
Suarez single handedly almost handed us a league title – in the fallout, Sterling was our best player (by a distance) at 19 yrs for an entire season and saw the club on a bad path preKlopp. Coutinho… well I don't have much there but whatever.

— Shawn Berlinger (@shawnberlinger) March 24, 2020
What do we think?
The three players were sold for a combined amount of £261.38m (via Transfermarkt.co.uk). Since Coutinho's departure to Barcelona, the club were able to bring in both Virgil van Dijk and Alisson, who have been labelled as 'irreplaceable' by former Reds midfielder Jason McAteer.
Since Van Dijk's arrival in early 2018, Jurgen Klopp's side have reached back-to-back UEFA Champions League finals, winning the trophy last season, missed out on the Premier League title in 2018/19 by a solitary point and are poised to be crowned England's top team.
It's clear from the responses that some of these supporters were hurt by the departure of certain individuals but in our view, it all worked out in the end.