Fans of Everton have been reacting to a Twitter post from Andre Gomes following the 4-0 defeat to Chelsea on Sunday.
After the defeat to Frank Lampard's outfit, the Portuguese middleman posted to Twitter stating that it was a 'bad afternoon' and that the players 'must learn from what happened' (per Andre Gomes), which supporters reacted to.
? Was a bad afternoon for us and we must learn from what happened today. The only positive thing is that we have a good opportunity next Monday at home to make our fans proud! #COYB @Everton pic.twitter.com/qgK86eNHyK

— André Gomes (@aftgomes) March 8, 2020
We were defeated from minute 1, perform like that next Monday and it will be double figures

— ??M? (@SamG_9) March 8, 2020
Love you Andre but let your feet do the talking mate. Absolute shambles this afternoon. Feel so sorry for those that went.

— Scousericey (@scousericey) March 8, 2020
I love Andre, I really do! If you mean it lad, be the one with a voice!! Scream at the players! Be the leader we need! We don't want a post like this, we want to see you screaming at the players on the pitch! Tell them this while we are actually playing! Someone needs to!

— ????? … (@Sean88999) March 8, 2020
Are you worried about the potential scoreline in the upcoming derby?
Yes, going off Sunday's showing
No, Ancelotti will sort us out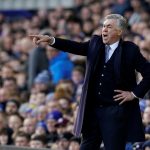 For his role in the defeat at Stamford Bridge, the 26-year-old was awarded an uninspiring 4/10 performance rating (as per Liverpool Echo).
Despite spending much of the season out through injury (per BBC), Gomes has been a weak performer when fit, having been the fifth-worst player in the squad on average in the Premier League (per WhoScored).
Bad is an understatement really, the lack of effort in that last 30 minutes from all

— Simon Joseph Villiers ? (@simonjv91) March 8, 2020
Can you explain what has happened Andrè? We have gone two steps forward and then 3 back today?

— ?Anne Celotti Williams ? (@annewillia) March 8, 2020
You were horrendous, if your not feeling fully fit don't play

— ???? (@efcjayh) March 8, 2020
Andre, we're sick of the excuses and explanations. All very poor today against a injury ravaged Chelsea side.

— Bluetoffee (@Bluetoffee10) March 8, 2020
What do we think?
With a 4/10 performance rating from Gomes (per Liverpool Echo), it is clear to see why some supporters are keen to air their concerns over performances.
An average rating of 6.32/10 across the season as a whole for the 26-year-old is also a concerning one (per WhoScored), which, hopefully, Gomes can begin to turn around now he is back fit.