Crystal Palace fans haven't been able to watch their team play football this past weekend, with all professional football in England having been postponed. This has caused some fans to look back on their time as a Palace fan.
However, if @diyar_kurnaz's tweet is anything to go by, this train of thought can often lead to painful memories. The Palace fan referenced the 2016 FA Cup Final that saw the Eagles lose out to Manchester United, despite taking a lead through Jason Puncheon in the 78th minute.
However, the fan questions if the side would have been able to win the game if they had Roy Hodgson managing the match, instead of Alan Pardew.
Some fans think that Hodgson would have undoubtedly done a better job than Pardew, suggesting that Louis van Gaal's Manchester United were there for the taking.
Still can't watch it ??

— stephen Bird (@sBirdyman) March 17, 2020
I still firmly believe Pardew lost us that final. Shoulda kept his head and managed the game when we went 1 up. Clattenburg didn't help either lol

— Adam Belton (@eagleadz88) March 16, 2020
Definitely. Against THAT Man U team? Yes

— PalaceAsh (@PalaceScout) March 16, 2020
Others admit that, while Hodgson may have won the match, they don't think he would have had it in him to lead the side to the final in the first place.
But would we have got there!?

— andy monty (@andymonty) March 16, 2020
With Roy in charge we wouldn't have got there in the first place

— Danny Rhodes (@rhodesie74) March 16, 2020
Do you think Hodgson would have won Palace the 2016 FA Cup Final?
No Yes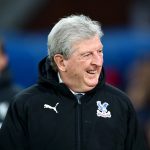 A couple of other fans place the blame on the players, suggesting that it was them that should have stopped Wayne Rooney in the buildup to Juan Mata's equaliser in the 81st minute.
Or having someone on the pitch to do the marking job on Wayne Rooney. Nothing to do with the manager. The players should have done everything to stop him

— Mr Cadbury's Parrot (@mrcparrot) March 17, 2020
Without a doubt imo, we wouldn't have let Rooney ride five tackles before crossing

— Leif Andersons forehead (@50pheadleif) March 17, 2020
What do we think?
It appears as if these fans have mixed opinions on who lost them the final. However, on the day, many were in agreement that referee Mark Clattenburg was the ultimate contributor to their demise.