Sunderland managed to walk away with three goals and three points after their match against Rochdale. The side scored more than two goals in a match for the third time since the turn of the decade.
But Black Cat fans thought Luke O'Nien was worthy of a special shoutout after his performance against the Dale.
They thought he was incredible during the match, with his linkup play with Chris Maguire being especially noteworthy. One fan thought he played a vital part in the buildup to one of Sunderland's goals.
He's virtually indispensable to us now.

— Julie (@juliesund) February 12, 2020
He's set himself high standards and he's continuing to achieve those standards

— kmarlib (@kftmb) February 12, 2020
O'Nien and Maguire's link up tonight has been excellent. Always finding eachother, O'Nien playing in a free role and always finding space to go and attack #Safc

— Josh Bunting (@Buntingfootball) February 11, 2020
What a fantastic player O'Nien has become

— Jonny Mackley (@JonnyMackley) February 11, 2020
O'Nien, just that sublime touch/pass for the 3rd goal

— tom (@belfastblackcat) February 11, 2020
Is Luke O'Nien better because of Phil Parkinson?
Yes No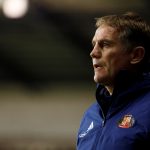 Others think he is impressing because of the right wing-back position he has been played in recently. They are thrilled that he has finally found a position that gets the most out of him.
He's turned himself into a proper wingback, which is fantastic to see

— Rich Speight (@mackemrich) February 12, 2020
The key to Luke Onien was finding a position for him.
Hes played well at RB LB CM and in the hole.
The gaffa wants 343 and that only left one position available..RWB.
Hes thrived there and is linking well with Maguire, overlapping and underlapping.
A quality player.

— Paul Summerside (@summerside49) February 12, 2020
Luke O'Nien. That's how you play wing back

— Kevin Gillham (@gillham_kevin) February 11, 2020
What do we think?
Credit must be given to Phil Parkinson for setting up his team in a way that gets the most out of the 25-year-old defender. But the work ethic of the defender has also played a big part in his success. Both factors have been a big part of why Sunderland are playing so well at the moment.