At the beginning of January, Sunderland released a club statement that insisted significant investment was going to be made into the club last month. The extent of that promise was always unknown, to the fans at least, but it was a glimmer of hope for supporters as they headed into the transfer window. 
In fact, there were six incoming players to the club during the window. One was Ethan Robson, who returned to the club after a loan spell at Grimsby Town. Josh Scowen made the move from QPR for an undisclosed fee, and Kyle Lafferty completed a free transfer from Sarpsborg 08. The remaining three were all brought in on loan. They were Bailey Wright and Antoine Semenyo from Bristol City, and Declan John from Swansea (transfermarkt.co.uk).
Roker Report posed a question to fans this week, asking if the ownership had lived up to their promises regarding 'significant' investment or not. Many fans don't think Stewart Donald has done enough. They reckon that the players brought in don't show Donald's desire to invest in the team.
No. He could have bought Boyce and Maddison, and loaned Docherty. 3 Players that would have added regular goals, assists, and wins. Our recent form of 1 goal every 2 games won't even be good enough for a play off spot. #safc

— Paul (@AccountantPaul) February 4, 2020
Not within a million miles of it. If the manager could speak his mind he would say it too. He is a born liar a con man. I cant believe anyone would praise and thank him. Obviously they are friends and family who have said as much. Cant help but say it. DONALD OUT. #SAFC

— William Wheatley (@WilliamWheatle7) February 4, 2020
No #Donaldout

— Jacksonn (@Jack_Tomlinson2) February 4, 2020
I'd be amazed, if anybody actually believed the waffle, regarding significant investment.
We're skint, whichever way we look at it.

— Steve (Sid) Molnar (@MolnarSid) February 4, 2020
Not exactly sufficient funds, all free's and loans and one 'minimal fee' deal.

— Kenzie Wooton (@WootonKenzie) February 4, 2020
Do you think Stewart Donald lived up to his promise?
Yes No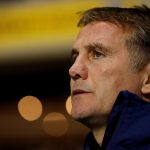 One fan suggests that loan moves are still a form of investment, while another thinks that the fans must move on and support the players they have.
Not defending SD at all but just because you loan a player or get them for 'free' doesn't mean you're not investing. There are loan fees, wages & bonuses, insurances etc which are all investment. Was it significant no, should it need to be to get out of this division…no.

— Dave Smith (@SAFC__73) February 4, 2020
Going to get slated here, but can we focus on what's important? Supporting the club and players? Negativity breeds negativity which will translate onto the pitch. Let's lay off SD till either a. End of season b. The promised buyer appears. Do what we do best, support the lads!

— Nick Watts (@Supa_Nico) February 4, 2020
What do we think?
Regardless of whether they actually paid a fee for a player or not, the club brought in a few Championship players who should help bring them out of the division. If they don't escape the league, however, there may be serious questions asked of Donald and his group.