Some Sheffield Wednesday fans have been left raging by the latest update involving Joey Pelupessy.
The Owls fans will see the club take on Luton Town in the Championship in mid-week and look to get back to winning ways after draws against Barnsley and Millwall.
Is Pelupessy good enough for Wednesday?
He's a liability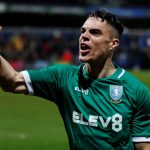 We need him for depth One of the club's fans tweeted to reporter Dom Howson about whether Pelupessy is expected to be involved against the Hatters. Howson replied that he has travelled with the side. This left many Owls fans fuming at the player. They made their opinion about him very clear.
Kids crying cheers Dom

— richard baines (@rbaines26) February 12, 2020
Not sure whether to laugh or cry or turn the car around. Think I'll do all 3.

— keiron wilcock (@keiron1972) February 12, 2020
Doooooom at it again bringing nothing but bad news

— Luke Askham (@Luke_Askham) February 12, 2020
More than he does on the pitch then.

— chris hartley (@MASSIVEOWLS) February 12, 2020
Should travel back to Holland,worst footballer I've seen in years

— peter childes (@ChildesPeter) February 12, 2020
Due to disappear round about 19-45

— michael smith (@michael74172164) February 12, 2020
26-year-old Pelupessy has made only 13 appearances in all competitions for the club this season. Nine of them have come in the Championship and he is yet to score or assist even once so far.
He has started each of the club's last three Championship games heading into their trip to Luton, with the Owls failing to win even a single one of those games.
What do we think?
The Dutchman's performance against Barnsley saw him fail to win a single tackle, as he was dribbled past once by the opposition, earning a Whoscored rating of 6.2. Against Millwall, he got a rating of only 6.8 – a sign that he isn't performing that well of late.
His average rating stands at 6.45. Wednesday fans are right to criticise him and to be wary if he features against Luton.