Some Sheffield Wednesday fans have been left to rage about a ticket update for their upcoming FA Cup game against Manchester City.
Wednesday face Man City in the next round of the FA Cup next month following their victory over QPR in the previous round.
Recently though, the Owls posted an update on Twitter asking the club's season ticket holders to book their tickets for the game as the final chance for it is fast approaching.
Will you buy a ticket for the Man City game?
Never, waste of my money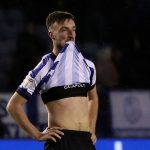 Yes, got to support the club This didn't leave too many fans pleased and they could only react angrily.
strange way of saying you haven't sold any tickets

— edders (@ejc1867) February 18, 2020
Someone can have my seat I'm not sitting through that

— Luke Askham (@Luke_Askham) February 18, 2020
No can't be bothered. I have never done that in my life but I'm having my own little Westwood & Hutchinson protest!!

— Tracy M (@TracyMI5) February 18, 2020
You having a laugh ? We can't beat Luton Town.

— Andy Clayton (@AndrewClayton93) February 18, 2020
Your ok ill save my money ta

— John Askham (@AskhamJohn) February 18, 2020
I was going to to and then saturday happened so I will watch it on telly

— vaughan_22 (@vaughan_22) February 18, 2020
While Wednesday did beat QPR in the previous round of the FA Cup, their recent Championship form hasn't been particularly impressive. They have won just a single game out of their last ten league outings and that win came over Yorkshire rivals Leeds United.
This has seen Garry Monk's men fall to the 12th position in the table and they are currently nine points behind Preston, who occupy the last play-off spot.
What do we think?
While Owls fans do have justified reasons for not buying tickets for the game – as they do fear a battering at the hands of Manchester City – supporting a football club isn't always about winning. Despite their frustrations, they should support the club through thick and thin.