It was a miserable day for many Rangers fans after they watched their side drop three points against Kilmarnock. With Killie sitting in the bottom half of the table, Rangers may have expected to walk away with a comfortable win after only failing to win five of their previous Scottish Premiership matches this season.
But after the match, Rangers fans were furious with a few players who underperformed during the game. One of those players was James Tavernier.
According to them, the captain wasn't good enough and was incapable of delivering a dangerous ball into Kilmarnock's box.
If he could properly cross, they think the side would have had a much better chance during the game. Others think he needs to be replaced if the Gers have any chance of winning a title.
I challenge every Rangers fan going to Ibrox on Saturday to count how many James Tavernier crosses either don't beat the first man or go straight out the park for a goal kick. Utter dross and has been happening for far too long.

— Ally Morrison (@allyfmorrison) February 12, 2020
Tavernier and Goldson need to go. Kent needs to be benched until he stops his flapping around.

— Eclipse Controllers (@Rampipe1975) February 12, 2020
James Tavernier is the worst player too ever play with rangers

— Jack White (@jackwhite1872) February 12, 2020
Hide and seek champion Tavernier.

— Calmyerham (@Calmyerham) February 12, 2020
We need technically gifted players, players who can perform week in week out.

James Tavernier needs to be hooked, that man will never win a league title.

— Lewis (@lewdinho) February 12, 2020
Do you think Tavernier is good enough for Rangers?
Yes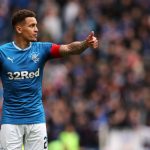 No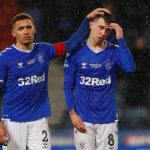 Some even question his shooting, claiming that he fails to keep the ball down when he does.
Tavernier is physically incapable of keeping the ball down when he shoots I don't even flinch when I see him lining one up

— Clubber (@Laing1974) February 12, 2020
Does Tavernier ever hit the target with chances like that?

— De@n (@ChurchofLaudrup) February 12, 2020
What do we think?
It is always harsh to single out one player when a team plays so poorly. But these fans expect more from their captain. Hopefully, it is not too late for Tavernier to rally his team and lead them to a late comeback in the league.