Some Celtic fans have been left delighted by the fact that striker Leigh Griffiths will face no ban for a potential stamp against Hamilton.
It has now been confirmed that the striker will be available for selection against Motherwell after a panel couldn't reach a verdict about potentially banning the player for a suspected stamp on Hamilton's Sam Woods.
Was the Griffiths stamp worth a ban?
Should've been banned for that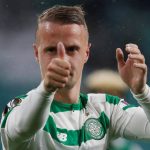 When Superscoreboard posted the update on social media, many Celtic fans hailed the decision. They feel that Griffiths didn't deserve a ban and the decision not to sanction him was the right one.
we RUN Scottish football and there is absolutely nothing you can do to stop us.

— Brian Kelly (@TheReturnOfBGK) February 4, 2020
I'm not surprised, it wasn't, most if not all his weight came down on other foot, hence not over excessive or out of control..booking correct decision

PUNDITS appease their audience!

— Jamie (@TheEssexHoops) February 4, 2020
A panel of experts agreed it wasnt a red card offence.
I corrected that for you.

— Stephanie Coyle (@StephOldNo7) February 4, 2020
why would he face any action? the referee dealt with the incident on the pitch, i thought once that happens it cant be dealt with by the SFA? that was the excuse given for Morelos not getting sanctioned for his stamps? double standards as usual.

— DrewHLMW (@DrewHLMW) February 4, 2020
'Experts' get it right for once……

— Sanfranceltic (@Sme51899360) February 4, 2020
Because it was an accident? Took them long enough to get one right

— Liam (@liamjaytic) February 4, 2020
Prior to Wednesday's visit to Motherwell, Griffiths had scored six times in all competitions this season but had also already missed 15 games due to injury during the campaign. He had missed that period of action due to a hamstring injury suffered in August.
Since returning from the injury, Griffiths has scored two Premiership goals for the Hoops and also has one assist to his name.
As far as missing games is concerned, Griffiths had missed the second half of last season because he had taken a break from the game due to mental health issues. Meanwhile, since the start of the 2015-16 campaign, the Scotland striker has missed over 60 games due to injury.
What do we think?
This is a big bonus for the Hoops, considering Neil Lennon has used a two-striker formation in recent games. They played the 3-5-2 shape against Kilmarnock and against Hamilton recently. That would require Griffiths to play and him not getting banned is very important for the side.