Some Brentford fans have shared their excitement on social media following posts from both Brentford's official account and Sergi Canos indicating that the injured playmaker has returned to training. 
Canos has been out of action for the Bees since October when the 23-year-old playmaker picked up a serious knee injury in Brentford's 1-0 loss to Nottingham Forest.
In addition to losing the match on that day, losing Canos to a long-term injury was "a blow for the team" in the words of Thomas Frank. The Brentford boss went on to admit that Canos had been one of Brentford's "most important players this season" when discussing the impact his injury would have on the squad. 
Canos finished the 2018/19 Championship season having contributed seven goals and seven assists to Brentford's final tally of 73 goals at the end of the season. He finished the season as Brentford's fourth-highest goalscorer, as well as having made the third-highest number of assists for Brentford last season. 
The 23-year-old attacker had already made three assists in the 11 Championship games he had played prior to his knee injury. It may be fair to say that Canos has proven to be one of Brentford's more influential attackers over the past couple of seasons. As a result, Brentford may be missing out on some goals due to his injury.
However, the Spanish attacker has recently posted an image on social media of himself back in action on the training ground preparing for his return from injury. Some Bees fans have reacted with joy to Canos' promising post. Read the reactions of some Brentford fans to Canos' latest injury update in the tweets below.
Could Canos' return help Brentford to achieve automatic promotion?
YES, CANOS' RETURN CAN HELP BRENTFORD PUSH FOR AUTOMATIC PROMOTION
NO, CANOS' WON'T HELP BRENTFORD PUSH FOR AUTOMATIC PROMOTION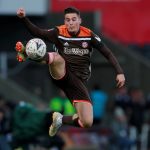 What a feeling??? pic.twitter.com/XLl5wO4THB

— Sergi Canós Tenés (@sergicanos) February 20, 2020
Welcome back ?

— Jewie ? (@JakeLewiston) February 20, 2020
???????

— Richard Starkey (@dickiestarkey) February 20, 2020
Ohhh nice ???

— Farewell Griffin Park ?????? (@DZfootballuk) February 20, 2020
Monstro.

— ??Tony Berg? (@BergTonyXbox) February 20, 2020
Vamos sergi vamos

— Sammi Morley (@sammimorley89) February 20, 2020
Yeahhhhh ?????

— Debbie (@bees4ever7) February 19, 2020
What do we think?
Canos, who is valued at £3.6 million (as per Transfermarkt), earned an average overall rating of 6.84 on Whoscored.com in his 11 Championship appearances this season. Furthermore, he is also one of seven Brentford players to have been awarded Whoscored.com's Man of the Match award this season.
Mathias Jensen is currently at the top of Brentford's assists chart for the 2018/19 season. The Danish midfielder has made a total of six assists. Despite his injury, Canos impressively trails Jensen's assist record for the season by just three.
Canos was a big source of creativity for Brentford in the early stages of the season. If he returns to action soon, Canos may pick up where he left off and help Brentford in the final stages of the season.