Celtic striker Leigh Griffiths has taken a swipe at referees by urging the Scottish Football Association to stamp down on 'silly charges' on clubs.
Griffiths was involved in controversy during the Hoops' recent 4-1 win over Hamilton, which saw the striker potentially stamp on defender Sam Woods, though the former Hibernian man escaped punishment for it. However, the SFA has since issued Celtic and Hamilton with charges over failing to control their players in the game at the weekend.
The striker was asked about these charges in an interview recently. The Scot told reporters (via BBC): "The quicker the referee can deal with the situation on the pitch, the easier it will be for everyone involved.
Is Griffiths right to criticise the SFA?
Yes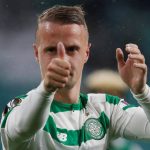 "He's got a match report to do after the game so if he puts in that that he dealt with it as quickly as he could then hopefully there will be no more silly charges."
Making an impact
Griffiths has come back to form in recent times for the club, having scored three goals in the last five league appearances for the side. He has one assist to his name, too. The striker also scored in the Scottish Cup tie against Partick Thistle.
Before this recent spell, Griffiths had scored only two Premiership goals for the club and had one assist. He had sustained a hamstring injury early on in the season and it saw him miss as many as 15 games in all competitions for the club.
TIF Tactics
Griffiths may have a point when he says that the referees should be able to deal with situations on the pitch quicker than they do. This reduces the chance of possible charges from the SFA later on and makes sure that situations are resolved quicker.
Keeping that in mind, it is the quality of referees that has to improve. This could lead to the burden on the SFA reducing and the 'silly' charges Griffiths talks of may not come into play.