Wolverhampton Wanderers have announced a profit of £21.64m for the 2018/19 season, their first season back in the Premier League (via BBC Sport). The figures make encouraging reading after the club reported a loss of £55.15m from 2018.
The accounts reveal that the club owe their Chinese owners, Fosun International, an estimated £131m but that there is no immediate requirement for this sum to be repaid.
Do you expect Wolves to spend big in the summer?
Yes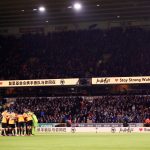 No Here's how some of the fans have responded to the report.
So we have covered the loss of the previous year without jeopardising our position in the league this season! The optimist in me thinks this may lead to a potential big spend in summer to push team on! Maybe 100m spend on players in summer ??

— ???? ????? (@Carl_Yorke) February 18, 2020
I'm so proud to support Wolves.

— Nuno The Redeemer (@GoldenPalaceWW) February 18, 2020
This is good we made 19m this year where 17/18 we lost 57m this is good

— malcom jones (@malcolmjones34) February 18, 2020
Great news Tim. Success on and off the pitch. Over the moon with this

— Lee Pally (@LeePally) February 18, 2020
On the face of it this looks decent, would I be right in thinking that tim??

— Richard Grice (@gricey88) February 18, 2020
Wow! I've no idea if this is good or bad my maths ain't the best

— Craig (@ChilloWolf) February 18, 2020
League cash difference between Premier League and Championship is crazy.

Championship needs more love.

— Jake ? ? (@JakeMattBelcher) February 18, 2020
What do we think?
As highlighted by one of these supporters, the financial reward that comes with being in the Premier League is extremely significant and can make all the difference to a club operating in the red. According to this report, Wolves earned approximately £123.9m last season, which was made up of their TV income, Premier League prize money and the revenue that is shared equally amongst the 20 competitors.