Spurs fans were less than impressed to see a supposed leak of their 2020/21 season home shirt on Twitter this week. 
The image of next season's home shirt was originally leaked by Footy Headlines, before being shared with fans on Twitter with Daily Hotspur, as well as other accounts. It features the famous Nike tick, a yellow and black collar, lightning bolts down the side and the sponsorship AIA written in red, which seems to have frustrated some Spurs fans.
The kit appears to have left these Lilywhites fans pretty downbeat, with some hoping that the leak is not legitimate.
Do you like the look of the leaked kit?
Yes No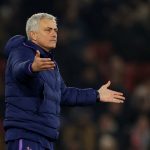 Reaction from Spurs fans to the leaked kit for next season can be seen in the tweets below.
How can Spurs allow red AIA on the shirt. Disgraceful. COYS

— Brian (@MrBrian1961) February 17, 2020
it's terrible

— Dan (@DanPats14) February 17, 2020
This ain't it chief

— Sessegnon SZN (@ronster0302) February 17, 2020
Awful. Fake hopefully.

— The Mockers (@MarkBennett81) February 17, 2020
No red… EVER

— Lee Adler (@AdlerSussudio) February 17, 2020
Absolutely disgusting

— ManLikeJimmy (@ortner_jan) February 17, 2020
That's nasty pic.twitter.com/o7BXFBR2QA

— Mic Miller (@BaronVonSaltpot) February 17, 2020
The leaked kit has clearly not had the desired effect on these Spurs fans, so it will be interesting to see their reactions should this kit be confirmed ahead of next season.
What do we think?
There seems to be a lot going on with the kit, the lightning bolts down the side and yellow and black collar seem like strange choices. Although AIA may be Spurs' choice of sponsorship, the red writing will probably not win over fans considering the rivalry with Arsenal.