It has been a couple of days since Sheffield United managed to sneak a late winner against Bournemouth to rescue all three points in their Premier League fixture. The winning goal came courtesy of John Lundstram, who was introduced into the game as a second-half substitute. 
But while a few days have passed, the fans are still celebrating the goal. When the club posted footage of the goal on Twitter, the supporters couldn't help but regain that sense of excitement. Sheffield United posted footage filmed in front of and behind the player. There were many fans who applauded the clinical finish from Lundstram.
What a finish that is as well. The control and instant shot is supreme

— christian colton (@evalfmoop) February 10, 2020
The pass from Mousset is class though to open up and pass it across so composed with first touch. Most strikers there take a touch on left or just try and take a quick shot

— Liam J (@liamj1889) February 10, 2020
Classic SUFC throw in

— Spud (@SpudSUFC) February 10, 2020
Great move great goal

— Martyn Doncaster (@Blades60Martyn) February 10, 2020
What was better?
Lunny's goal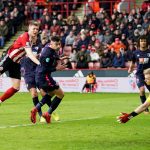 Team's celebration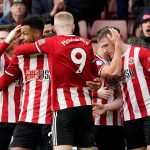 Others loved the rapturous reaction that occurred as soon as the shot hit the back of the net. There were so many players going crazy, and the supporters loved to see it.
Stevens just carries on the run and goes off celebrating on his own

— Dane Dunne (@d1889_) February 10, 2020
Stevens celebration haha

— charlie (@ChazzleFizzle) February 10, 2020
So many reactions here that I absolutely love to bits

— Jake Bellamy (@BellersTheBlade) February 10, 2020
Seeing Moose and McBurnie's love for one another is like watching Didz and Craine all over again.

— Eggy (@M_Eggy1) February 10, 2020
So much going on there, great passage of play on build up, quick feet from lunny and waving everyone away to talking the praise for scoring, all the boys celebrating, ace scenes, what a life

— chris pursall (@krizzcast) February 11, 2020
What do we think?
The passion shown from the Blades players was something special. To be in the position they are right now, having only been promoted at the end of last season, is an incredible achievement. No wonder they are celebrating each and every win with such excitement.