Former Newcastle United striker Ivan Toney is said to be attracting the interest of Premier League rivals Bournemouth, according to The Sun. The 23-year-old departed St James' Park back in August 2018 and signed for Peterborough in a deal worth £648k (via Transfermarkt.co.uk) after being sold by Rafa Benitez.
During his time with the club, Toney only made four appearances for the first team but has proven at the Weston Homes Stadium that he is more than capable of scoring goals.
Can Ivan Toney cut it in the Premier League?
Yes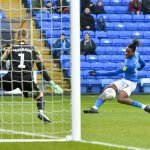 No The Northampton-born forward has already managed 23 goals and five assists in 31 League One appearances so far this season – which would explain the Premier League interest in his services.
Here's how Newcastle United supporters have reacted to the news he could return to the top-flight in a deal worth up to a reported £13m.
Didn't they pay a similar fee for Solanke and Ibe? Not convinced

— RitchiesMagic ? (@RitchiesMagic) February 12, 2020
He could do with a year or 2 in the championship first

— Dayle Barron (@DayleBarron) February 12, 2020
Rafa made some horrendous decisions

Just look at getting rid of mbabu to bring in manquillo, getting shot of mbemba to bring in Hanley and replacing krul with sels

Rose tinted glasses on alot people

— Andy Mason (@andymason86) February 12, 2020
He's scoring goals in League 1 though…can't fault a Premier League team for letting him go. I doubt he'll kick a ball in the Premier League for the rest of his career.

— Barry Blakely (@BarryBlakely) February 12, 2020
BREAKING: Player does well two divisions below. Former manager was wrong to let him go. Get real. Seriously. No disrespect to League 1 teams. But the gulf in class is massive. If Rooney starts scoring plenty for Derby were united wrong to let him go? What a joke this is.

— Craggles (@NUFCJunkie) February 12, 2020
Or he is just scoring goals in a league two divisions below. A PL team being after him doesn't mean he is PL quality. The lad hasn't even done it in the Championship…like a Dwight Gayle for instance.

— Rob M (@GeordieRobM) February 12, 2020
Chelsea got rid of Salah, De Bruyne and Lukaku for a fraction of what they're worth now. Every club has made mistakes.

— ???? DavidL1980 ???? (@L1980David) February 12, 2020
What do we think?
In our view, the gulf between League One and the Premier League is pretty significant so if Bournemouth were to sign Toney there may be an element of risk. The discussion regarding whether or not he would succeed in the top flight is all very hypothetical at the moment and only if the Cherries get their man will we get our definitive answer.