A lot of Newcastle United fans have flocked to a post showing the importance of Martin Dubravka.
TheOther14 have published stats about all of the Premier League's goalkeepers, and what they show is that the Slovakian has made the most saves in the league (102) and has the second-best save percentage. (73.9%)
Is Dubravka Newcastle's best player?
Yes, he is fantastic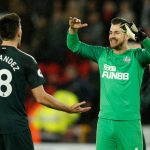 No, he is good but not the their best player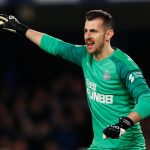 This has drawn a great response from these Toon fans, who are lauding Dubravka.
The importance of Dubravka is UNREAL for us this season. 102 saves, second top on save %. That has to be unheard of. The bloke is invaluable. #NUFC https://t.co/zKiUdkiYQL

— NUFC 360 (@NUFC360) February 7, 2020
Fair few of them been worldies as well. Made the odd mistake but hardly surprising bearing in mind how much work he has had to do. He's top class

— John North (@northy76) February 7, 2020
He is turning out to be as important as Given was to us. Because he is a keeper at a club outside the top 6 he will be ignored thankfully as I think he is definitely 3rd best keeper in the league. Maybe 2nd at a push.

— NItoonfan (@NIToonFan33) February 7, 2020
Yep I would equate his form to 9 points saved he has been such a key for us not being in relegation positions

— Big Cel (@BigCel5) February 7, 2020
Can't be understated. Must protect at all costs!

— NUFC Social (@NUFCSocial) February 7, 2020
He's class. We will lose him soon.

— phillymoz (@phillymoz) February 7, 2020
A Club that relies so heavily on one player to keep them from being relegated is a Club whose luck will surely run out #NUFC

— Dean Burns (@deanoburns) February 7, 2020
Top class. Shows which two should be called up for England too… Both Henderson and Ramsdale have been unreal

— Lee J Rutter (@LeeJRutter2) February 7, 2020
What do we think?
The Slovakian international, who is valued at £6.3m by Transfermarkt, has kept seven clean sheets this season as well as making 102 saves, so he is clearly having a very good year.
It tells you something that since his debut, Dubravka has played every single Premier League game for the Toon.
Dubravka's debut was in a 1-0 win over Manchester United, where he turned in a man-of-the-match performance, and he has not looked back.
The fact that the club tied him down to a six-year deal in October could prove to be an excellent piece of business if he can keep up his form.