To say that Crystal Palace's last couple of months have been disappointing would be an understatement. Since the Eagles managed to beat Bournemouth 1-0 in the league back in early December, the side has only managed to achieve one win in all competitions. 
Excluding pre-season, Crystal Palace have only managed to win seven matches in total this season. It is a staggeringly poor record that sees Crystal Palace sit dangerously close to a relegation spot. West Ham, who are in 18th, are just six points away from Palace with a game in hand.
This week, Roy Hodgson's ability to lead the club forward has been questioned by Simon Jordan. The ex-Crystal Palace owner doesn't believe the club can move forward with Hodgson at the helm and believes he will only keep the Eagles in a static state.
Do you agree with Jordan's comments?
Yes No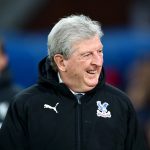 Fans responded to Jordan's comments after it was relayed on Twitter by @PalaceEaglesc0m. They think if Hodgson can manage to keep the club afloat, it would be a triumph, not a negative. They don't like what Jordan is saying at all.
Jordan lost his right to an opinion on our club when he nearly bankrupted it.

— Dave Lewis (@davelewis22) February 13, 2020
Simple fact is that we won't be spending any money to rebuild. So if anyone can think of a manager who could get the performances & league position achieved by Roy with this squad the crack on. If we bring in a new manager with zero funds available we will 100% go down

— FPL Eagle (@SE25_) February 14, 2020
Keeping us where we are would be a good thing.

— Andrew Milborrow (@AndrewMilborrow) February 14, 2020
Massive rebuild yes. Massive resources provided no. Keeping us where we are with the poor support RH has had is a great achievement. Yet to see what the strategy is for the future development of CPFC.

— Martin (@martind2356) February 13, 2020
Well , if he keeps us where we are that will be 100% more successful than any other manager !!! ~ stop knocking Hodgson it's embarrassing, the man has performed miracles since the day we got him ~ #CPFC @CEO4TAG

— Gary Spencer (@garyspencerr) February 13, 2020
Keeping us where we are whilst rebuilding would be amazing. The refresh of this squad is a huge task. Roy has not done that before, had the oldest squad in the league twice at Fulham too.

— jjk (@neiltipping) February 13, 2020
What do we think?
It is easy to see where both parties are coming from. One is worried about relegation, and would quite happily see the side stay where they are. Jordan wants to see the club move on from their spot of uncertainty. We believe, however, that before you build you must lay the foundations. Until the club is stable, Hodgson must stay.