Aston Villa fans have flocked to a tweet from on-loan forward Scott Hogan after he made it three goals from his first three games for rivals Birmingham City. 
The Republic of Ireland international turned and brilliantly fired past the Barnsley goalkeeper to continue his scoring streak since signing for the Championship side on loan during the January transfer window. The 27-year-old had spent the first half of the season on loan at struggling Stoke; where he scored three times in 13 Championship appearances, but he looks to be enjoying his time at Birmingham City much more.
Despite Villa's first-choice striker Wesley having been ruled out for the rest of the season through injury and Jonathan Kodjia also departing in January, Dean Smith was clearly unwilling to give Hogan a try in the Premier League. Since joining the Villans from Brentford in 2017 for around £12 million the former Rochdale man has scored just 10 times in 61 appearances, but if he continues his impressive form at Birmingham, perhaps he could be more of a regular in the Villa side next season.
Should Hogan be given a chance next season?
Yes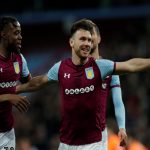 No Reaction from Villa fans to Hogan's post can be seen in the tweets below.
Well Done Scott

— Villa Forever (@VillaForeve11) February 11, 2020
Keep doing what your doing Scot

— liam._. (@liamgrimess) February 11, 2020
Good to see you building your confidence at villa reserves. Just have a good wash before you come back

— Savos Bandana (@BandanaSavos) February 11, 2020
On fire congrats man!

— Declan Pierce (@DecPierce) February 11, 2020
Nice job Scott.

— VillainInIdaho (@f3202fd95778477) February 11, 2020
Glad you are scoring again and building your confidence up to come back to the mighty Villa, glad it's going well for ya chap

— Andrew Nunney (@ANunney) February 11, 2020
Well done scotty, proving smith and Bruce wrong hope you're happy there

— Sonia kingscott (@bigginge5371) February 12, 2020
What are you doing playing for them. Your a Villain! Get yself sorted and get back to a proper club and score us some goals. Always rated ya quietly UTV

— Darren Woodall (@DarrenWoodall1) February 12, 2020
These Villa fans are clearly glad to see Hogan doing well on loan, although they would perhaps prefer it if he wasn't at Birmingham City.
What do we think?
If Hogan continues to score goals and Villa do succumb to relegation, then surely he will be given a proper chance in the Championship next season.