Aston Villa fans have been reflecting on James Milner's time as Villa player on Twitter. 
This comes after Villa fan Twitter account @AVFC_Religion shared a post on their page replying to a post shared by @btsportfootball of Milner watching Liverpool's FA Cup match against Shrewsbury Town at Anfield on Tuesday.
The Villa page then claimed that they would take Milner back at the club after calling him a "top player" in their post.
Would you take James Milner back at Villa?
Yes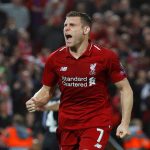 No This then led to several Villa fans replying to the post with their thoughts on the Englishman.
Here's a sample of Villa fans discussing Milner and other former Villa players:
Bring James Home, such a top player and out of the 4 we left go from that midfield Downing, Barry, Milner Young. Milner was the only one who left on good terms and didn't force the move. I'd take him back #avfc https://t.co/iNDztUAk52

— The Religion – AVFC ? (@AVFC_Religion) February 5, 2020
Reading Downing, Barry, Milner & Young trying not to get upset ?

— Up The Villa (@UpTheVilla96) February 6, 2020
We'd still boo him…it's the Villa way unfortunately

— M. (@MAfzal_UK) February 6, 2020
In a heart beat have him back

— Clement Doyle (@Doyler20871) February 5, 2020
The 34-year-old made 123 appearances for the Birmingham club during his time at Villa Park, scoring 22 goals and assisting 25 (per Transfermarkt). Milner has the record of most Premier League appearances of any active player still playing in the top division with 532 (per Premier League). In those appearances, Milner has scored 55 goals and assisted 83. Now that an image has emerged of Milner watching his current team in action in their midweek FA Cup win, some Villa fans have been discussing their former man.
I don't remember any of them leaving on bad terms tbf and Barry gave us most of his career and deserved his move.

No chance of Milner moving anywhere either, didn't he just sign a new contract?

— Gary Smith Jnr (@GarySmithJnr) February 6, 2020
Just signed a new two year contract with Liverpool, I'd say him going anywhere is unlikely.

— Scott (@CaptainScott87) February 5, 2020
To be fair Barry gave us a good 11/12 yrs and deserved his move . I don't remember him forcing his way out !

— Shawfarmstud (@SFSshawfarmstud) February 5, 2020
What do we think?
It's nice to see some Villa fans still appreciating Milner for his time at the club and their wishes to see him back at the club. Whether Milner, who is currently valued at £10.8 million according to Transfermarkt, will make a return to Villa Park at any point in the remainder of his career is yet to be seen.