It was a monumental win for Phil Parkinson on the weekend as he watched his side beat Wycombe Wanderers 4-0. The win was important in many ways. It marked Parkinson's first back-to-back wins in charge of Sunderland. It was only the second time Parkinson's Sunderland scored more than one goal while keeping a clean sheet, the first being against Tranmere in his second game in charge. But most importantly, it extended his team's unbeaten run to six matches.
With Wycombe being in first-place before the match, it was a big test for Sunderland. The scale of the win was, therefore, made even more impressive. One fan applauded Wycombe's manager, Gareth Ainsworth, and his staff for staying after the match to shake each Sunderland player's hand as they walked off the field. It was a great gesture that many Sunderland fans appreciated.
Top bloke ?

— one happy chappy ????? (@Andrewclennell2) January 14, 2020
Agreed, what with this and his very fair after match comments I've got to take my hat off to the lad.

— Peter Beuster (@PeterBeuster) January 14, 2020
I'm not a big fan of his and I didn't notice at the time but fair play to him on this one

— Paul Fury (@paulfury2702) January 14, 2020
Got a lot of class has Gareth

— Francis Drury (@FrancisDrury) January 14, 2020
Is Phil Parkinson a better manager than Gareth Ainsworth?
Yes No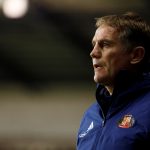 Others had little respect for the manager. They aren't fooled by this gesture and still claim that his team effectively cheats to win.
A difficult one, given how his team are drilled to effectively cheat by feigning injury & waste time. I'll personally always hold him to account for the game down there last season & his sides deliberate 'crippling' of Duncan Watmore as we chased a winner. He can stay there.

— Ian Harrison (@Hag_SAFC) January 15, 2020
He is a very good manager and more importantly – a decent guy. Given a better squad, and a team that can play, he would do even better. Has done fantastic with us on a shoe string budget …

— Stevie_D (@stevedarney) January 14, 2020
What do we think?
At the end of the day, it is great to see this level of sportsmanship shown by Ainsworth. It is easy for a losing manager to throw a tantrum or come up with excuses after facing defeat. It shows a lot of class to hold up your hand and applaud the other team for just being better. Fair play Gareth… fair play.