Some Sheffield Wednesday fans have reacted to the latest ticket information that the club has released about the next few seasons for the Owls.
The club released a statement saying that fans can now buy ten-year-long season tickets. They have now introduced the system of multi-year season tickets, which allows the fans to assure themselves of a presence in the stands for a specified few seasons.
SWFC fans: Are you happy with the announcement?
I have my doubts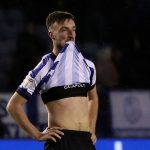 They also tweeted out the information, saying that the method is pioneering world football. And many Owls fans reacted to it, saying that they love the new way. Some also made mocking remarks about it.
10 year season tickets ? I love this club and it's daft ways of tryna sort ffp out

— Gurny (@Gurny21) January 15, 2020
If you can afford it, it's an awesome deal

— ??? ???? ?????? (@robhaines1973) January 15, 2020
10 year is a great deal for those who can afford it, I just need to win lottery between now and Feb 10th and am in. wawaw

— Phil Bradish (@BradOwl) January 15, 2020
If you have the money it's a great deal

— DaveOwl1867 (@wellbeaten1977) January 15, 2020
This smells like chaos

— Callum Harrison (@CJHarrisonn) January 15, 2020
That's handy. I was wondering what to do with my spare £4500.

— Andrew Reardon (@reardoa) January 15, 2020
The BBC claim that the season-ticket also guarantees the fact that the fans will get a seat even if the club earns promotion to the Premier League in the next few years. The ten-year season ticket will cost fans £6,400, as per the BBC.
So far this season, the Owls are currently sixth in the Championship and have 42 points in the bag, only two points behind fifth-placed Nottingham Forest. They are three points behind fourth-placed Fulham too.
Wednesday have scored 39 goals in the division so far and that is the eighth-best record in the division so far. The Owls also boast of the third-best defensive record in the league, letting in only 26 goals so far.
What do we think?
While it is good for fans, the club gets a financial assurance too. They will have the money and it will make sure that the club doesn't end up in a tough financial situation in the next few years. And the fans will get to experience some good moments and the fact that this is assured for the Premier League makes it even better.