Supporters of Wolverhampton Wanderers fans have fumed over the ticketing details released by the club for their Europa League clash with Espanyol.
On Thursday, the Old Gold announced that an adult could pay as much as £40 for a ticket to the Round 0f 32 leg at Molineux (as per Wolves), which had fans furious.
Tickets for Wolves' @EuropaLeague round of 32 first leg tie with @RCDEspanyol are now on sale to season ticket holders.

Full details ?https://t.co/c0aAoqlUff

— Wolves (@Wolves) January 16, 2020
20 quid each for my kids? I'll watch on by sports.

— James Thomas (@JamesTh14527189) January 16, 2020
U saw how mad fans got at the united prices and then u do this. #twentysplenty ???

— ? Adam /\__/\ (@adamwwfc93) January 16, 2020
£40 for the BW upper when you can't even guarantee us our seats because of potentially giving them to UEFA? Got to be having a laugh

— Ellen Gilbert (@Ellen_Gilbo) January 16, 2020
£40? Gotta be a joke surely

— ? (@_cs67) January 16, 2020
Do you believe that £40 for a ticket in the Round of 32 in the Europa League is too much?
Yes, it's a bit of a farce No, it's totally worth it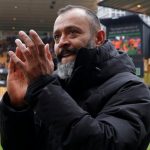 To get to the knockout stage of the competition, Nuno Espirito Santo's side finished second in a group consisting of SC Braga, Besiktas and Slovan Bratislava (as per The Mirror).
Following the announcement by the club, another cause for anger for Wolves supporters was the number of tickets on sale for the second leg, with 2,126 perceived to not be enough (per Wolves).
2126 for the away tie must be 40k flying over ??

— wwfc79 (@HeatonBobby) January 16, 2020
2100, away tickets, they'll be 4000+ over then ticketless

— James Elcock (@james_elcock) January 16, 2020
It's a big stadium and they never sell out unless its v madrid or Barca so its like they dont want the money

— Dave Ostle (@OstleDave) January 16, 2020
Going to be hell of a lot of folks not getting in if this allocation doesn't increase

— Gary (@garymercy) January 16, 2020
What do we think?
While £40 for an adult ticket does seem a little steep and is an indictment of how the game is run today, treating fans like cattle, Wolves fans should not turn their nose up at the Round of 32 in the Europa League.
Yes, it is a little extortionate, but the memories that a win in either leg could create would last a lifetime and, at the end of the day, that is what football is all about.