Leicester City suffered a defeat at the hands of Sean Dyche's Burnley on Sunday afternoon despite initially taking the lead through Harvey Barnes.
The 22-year-old, born in Burnley, put the Foxes ahead with a superb individual effort but the home side improved after the break and Brendan Rodgers' side were unable to hold on.
The defeat was Leicester City's third in their last five Premier League outings and the dip in form has left many supporters concerned about their chances of Champions League qualification for next season.  Rodgers told the club's official website "it was just one of those days for us" but that hasn't eased the worries of these loyal fans.
Can Leicester stop the rot and hold onto a Champions League spot for the rest of the season?
Yes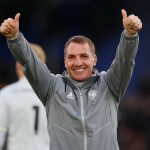 No Been 'one of those days' for a while now….

— Chris (@Chris_LCFC1884) January 19, 2020
Been a off day for over a month. Don't want to see a tweet unless it's three signings.

— MichaelLCFC???? (@TheShinyOrange) January 19, 2020
Getting to frequent these one of those days

— Pilks (@Truecarlos) January 19, 2020
It's been a few months let's be honest! This is our best chance to be a top four side for the next couple of years! Let's not blow it

— ? (@barcascott1) January 19, 2020
The cracks are starting to appear Mr Rogers we will soon see just how good you are ?

— Steve Oldacre (@Steve_Yetifan) January 19, 2020
Time for BR to earn his money .He's had the new contract player's not up to it at minute let's see what happens now see if he can produce while the chips are down

— stu_upton (@uts72) January 19, 2020

What do we think?
Even the most ardent of Leicester City fans would acknowledge the team have exceeded all expectations during the first half of this current campaign and so a drop off in results was always around the corner.
With Liverpool seemingly having run away with Premier League title already, Brendan Rodgers needs to stop the rot and re-focus his group with the aim of securing a place in European football's premier competition next season and the financial reward that comes with it.