Supporters of Everton have gushed following the emergence of an image which supposedly shows the Toffees manager purchasing a new car.
The photo, posted by Everton News Feed, shows the Italian gaffer shaking hands over a brand-new, dark blue Range Rover, which had Everton fans going wild over the colour.
Our Gaffer??? pic.twitter.com/1UbbmZlNEF

— The USM Toffee Blues (@EvertonNewsFeed) January 16, 2020
Proper king of the kids him?? thought an s class would of been more his style

— Robert Edwards (@chefmainia) January 17, 2020
Class. Royal blue car. Embracing everything.

— FollowEverton (@followeverton) January 17, 2020
Car's a nice colour! ??

— Marie (@toffeemoc) January 16, 2020
How far can Carlo Ancelotti take Everton during his tenure as manager?
Break into the top six Premier League winners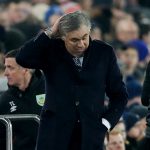 Europa League winners Champions League winners The former Real Madrid manager has been in charge of the Toffees since late December, having guided the club to three league wins in his first four Premier League ties (as per BBC).
However, with many loving the colour of the 60-year-old's new car, eagle-eyed fans were not happy to spot the colour of their noisy neighbours, Liverpool, lurking.
Changer yer break pads lad @MrAncelotti

— Everton Designs (@EvertonDesigns) January 16, 2020
Needs to change those red calipers immediately. Amber please

— Mark (@MarkBirch1988) January 16, 2020
Complete disgrace, he's got red on his car.

It's like Ronald McKoeman's Christmas tree all over again.

— Bleu Chanel (@Clarke527) January 16, 2020
What do we think?
While a lot of the comments over Ancelotti's new car will have been made at least a little tongue in cheek, it is nice to see the Italian fully embracing every aspect of the club.
As trivial as the colour of a new car is, it shows that Ancelotti is committed to Everton and to building the vision that they are clearly attempting to put in place at Goodison Park (via Liverpool Echo).