Some West Bromwich Albion fans are hailing and reminiscing about their former defender Gareth McAuley on his birthday today.
McAuley is now 40 and he last played for Scottish giants Rangers last season. He had left the Hawthorns at the end of the 2017-18 campaign and had been with the Baggies in their Premier League days to their time in the Championship two years ago.
He was at the club for seven years from the summer of 2011 till the summer of 2018. And some Baggies fans are hailing the defender and are nostalgic about the presence of the Northern Ireland man.
West Brom fans: Is McAuley the best defender the club has had in this decade?
He sure is!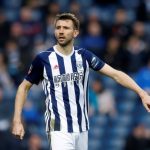 There were better ones Gmac
You know when we sang he's better than JT
Well Gmac acknowledges us on his birthday…meanwhile JT refused to acknowledge the vile at Chelsea,even though it's his job

Gmac…man…legend #wba
#

— me (@matthews_boing) December 5, 2019
G Mac we miss you and love you. Your heroic displays put you in most people's all time XIs. A modern day legend. #AlwaysBetterThanJT

— The Last Blairite #TrueLabour (@LastBlairite) December 6, 2019
One of the greatest of my generation, thanks for the memories for both @WBA and @NorthernIreland Gmac

— Ant Lowe (@antlowe) December 5, 2019
What a player one of the best defenders we've had imo

— Jamie Smith (@jamster0504) December 6, 2019
Happy birthday G-Mac! You massive #wba legend

— Mike Hampson (@mikehampson87) December 5, 2019
One of our best a legend sorely missed

— ross (@rossfletcher52) December 6, 2019
McAuley has gone down as one of the best bargain buys in West Bromwich Albion history. He came to the Hawthorns on a free transfer in the summer of 2011 from then Championship side Ipswich Town. He had signed a three-year deal when he had joined.
In his first season in the Premier League, McAuley played 36 times in all competitions for the club. He did score twice that season, racking up a single assist as well.
In his last season at the club, McAuley had his contract run out in the summer of 2018. He played only 12 games in that season in the Premier League. After he joined Rangers in the summer of 2018, he played ten times in all competitions under the tutelage of Steven Gerrard, also playing two games in the UEFA Europa League.

What do we think?
West Brom are currently at the top of the Championship table. They don't really miss McAuley but they miss a fans' favourite who had been at the club for a long time. He had been through the peaks and troughs and was a real leader in that dressing room.
This season, the Baggies have conceded just 19 goals. They have the fourth-best defence. But having said that, someone of McAuley's experience will always be missed.