Sunderland fans are desperate to see their team score goals at the moment. Supporters are still yet to see the club score more than one goal in a game under Phil Parkinson after he beat Tranmere 5-0. And with 'superstar' Will Grigg drawing blanks, it doesn't look like things will be changing any time soon.
There was a lot of anticipation over Grigg's transfer to the club, but he hasn't been as successful as fans would have originally hoped. And when the FA Cup's official Twitter account posted a clip of Grigg scoring against Manchester City, Sunderland fans were amazed. The player they watch every week fails to put in the same effort as his past self. They wonder why he can't replicate that form for their team.
Why can't he do that for our club Sunderland afc

— Header Safc (@HeaderSafc) December 3, 2019
This is like one of those alternate reality tapes from Man in The High Castle. https://t.co/gbMUdMIC7N

— Roker Report (@RokerReport) December 3, 2019
There's no way I'm believing that's the same player who's playing upfront for us…

— Jack Moyes. (@1879JJMoyes) December 3, 2019
Is that really Will Grigg? Is this a bit like Mourinho said to Dele Alli, maybe we have Grigg's twin brother….

— Ian chester (@Ianc1102) December 3, 2019
Do you think Will Grigg can find his old form while at Sunderland?
Yes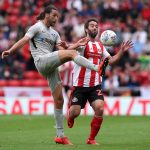 No There were a few give away for fans. The main one was how fit he looked back then and that he was actually sprinting. Others couldn't believe the quality of the finish, something they have rarely seen him do in a Sunderland top.
He's sprinting for starters, massive give away

— Tim Snowdon (@ItsLeonTV) December 3, 2019
Looks much fitter there

— Niall Quinn (@quinnsta09) December 3, 2019
Look at the differnce, ball on the floor not pumped in the air

— Daniel Hull (@DanHull22) December 4, 2019
What do we think?
Grigg will be just as disappointed as the Sunderland fans at his recent performances. Hopefully, for both he and the supporters, he can regain his form quickly. It would be a massive boost to the club if he could.