Liverpool fans have been discussing on Twitter Philippe Coutinho's time at Anfield. 
This comes after Liverpool journalist @LFCLaurie shared a post on their page of a video clip of one of Coutinho's goals for the club. The page also claimed that for one month, the Brazilian was "genuinely the best midfielder in the world."
This post then gathered many replies from Liverpool fans eager to share their own opinions on the former Reds star.
Was Philippe Coutinho right to leave Liverpool?
Yes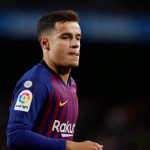 Here's a sample of Liverpool fans discussing this period of Coutinho's time at the club:
Would've definitely won player of the year that season. Even better than de Bruyne for the first half of the season

— _ (@RB_24Ftbol) December 17, 2019
This month alone added about 60mil to his value, I know a lot of people miss him but after snaking his way out of our club I don't wonder what if. We have had the best season in our premier League era without him !

— Callum Yule (@Callum301191) December 17, 2019
In his final half-season for Liverpool, Coutinho made 20 appearances in all competitions, scoring 12 goals and picking up eight assists whilst battling little injuries (per TransferMarkt). Before leaving for Barcelona in January, Coutinho was having a standout season for the Merseyside club.
Was our best player and if he didn't leave he still would be

— ?? (@OhManeManeV13) December 17, 2019
Yeh, that's when he thought he was the king

— (@Mc_Jim_) December 17, 2019
Actually a crime that we didn't get to see Phil and VVD play together

— Alexiii (@Alexi_H_98) December 17, 2019
Coutinho Paaaa

— Karim (@Dhestyny84) December 17, 2019

What do we think?
As his time at Liverpool was drawing to a close, Coutinho was on fire. It's clear that some fans are still hurting over his departure, but when Barcelona came calling, it's very hard for any player to say no to the Spanish giants. Whether Coutinho would have continued on his fine form if he had stayed at Anfield is just speculation.