Some Celtic fans have made it clear that they don't want to see Aberdeen striker Sam Cosgrove anywhere near Parkhead in the upcoming January transfer window.
This past weekend, Cosgrove was in action against the Hoops in Aberdeen's loss in the Premiership. He did score a goal, but he was sent off later for a rather controversial foul on Hoops defender Kristoffer Ajer.
Christopher Jullien and Odsonne Edouard scored a goal each to keep Celtic's lead at the top of the league and keep their unbeaten run going.
Celtic fans: Do you want Cosgrove at Parkhead?
He isn't good enough!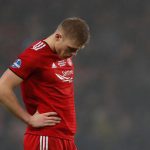 Go for him!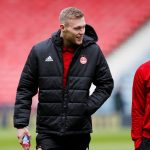 After the win, a debate on social media broke out about Cosgrove and while many Hoops fans see the Englishman as an option, others don't want him at Parkhead.
Not Cosgrove, not Shankland. They are garbage.

— jimbo* (@JKBal4) December 22, 2019
Cosgrove is a big thug. But we do need cover – Griffiths is struggling to get back in the groove and Bayo just isn't good enough.

— Paul Gormley (@paulfg42) December 22, 2019
No chance. His touch is dreadful

— Mikey67 (@KerrMikeybhoy71) December 22, 2019
Absolutely not Cosgrove

— pupster (@pupster67) December 22, 2019
Temperament and decision making is a question mark

— Jamesyisherefor10inarow (@trebletrebleye1) December 22, 2019
Would prefer Zlatan

— Herewego10inarow (@JanKubis) December 23, 2019
I'm sure Cosgrove is the answer to some questions but certainly not the answer to this

— Cammy Solley (@CammySolley1964) December 22, 2019
This season, Odsonne Edouard has been the Hoops' first-choice striker ahead of the likes of Leigh Griffiths and Lewis Morgan. Griffiths came back from an injury last month and is getting to fitness slowly. But Edouard has found the back of the net 15 times in all competitions, racking up 13 assists on the way.

As for Cosgrove, he has done well for Aberdeen in recent seasons too. He has played 26 games in all competitions this season, finding the back of the net 20 times during this time and assisting once. In the Europa League qualifying stages, he had scored six times in just as many games for his club.
Last season, he was impressive too. He played 44 times in all competitions and racked up 21 goals during this time. He also had five assists to his name.
What do we think?
Signing someone like Cosgrove as a back-up striker would not make sense. He is someone who deserves to play first-team football and shouldn't be a second-choice to anyone. Celtic would have to spent big money on him and spending big money on him will not make sense.