Some Celtic fans have discussed as to who they will prefer in their choice for youngster Mikey Johnston and on-loan Southampton man Mohamed Elyounoussi.
Johnston recently returned to action for the Hoops in the Europa League, while Elyounoussi has been impressing in his ongoing temporary stint at Parkhead.
Elyounoussi has been out due to injury since the recent international break, while Johnston has scored in both of his games since his return against Rennes this past Thursday. He also scored against Ross County at the weekend in the Premiership.
Some Celtic fans are having their say about who they prefer to have in their side out of Johnston and Elyounoussi.
Celtic fans: Johnston or Elyounoussi?
Johnston anyday!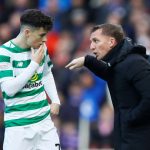 Elyounoussi is better!
Who'd you rather?

Mikey Johnston
Mo Elyounoussi pic.twitter.com/2kwfIvUWuE

— Celtic Soccer Show (@CelticSoccrShow) December 1, 2019
Both cracking players. I believe wee Mikey will one day play as our main striker after Eddy goes, he needs the Ryan Christie bulk up diet and he'll be jamming.

— Jimmy Bhoy 45% (@travellinbhoy) December 1, 2019
Johnston's goal/assist stats are better, but Elyounoussi works harder without the ball, and therefore benefits the team more, so Elyounoussi for me, with Mikey off the bench to run at them 2nd half

— Codgey (@CodgeyBhoy) December 2, 2019
Ely is top notch and Johnston on way to being top class so Ely for the rest of season and Johnston from there

— Gerry Burns (@Bandanaman1968) December 1, 2019
Mikey all day long . Absolutely love seeing celtic play with a core of scots players

— steve (@Stevee5) December 1, 2019
Elyanoussi gives us more in his work rate and experience..mikey is a great impact player not 100% yet

— #10inarow invincibles (@Bmc1888Brian) December 1, 2019
If you're asking about next Sunday I'd put MJ. Unless Elyonoussi plays in mid week

— Hugobossman (@Hugobossman4) December 1, 2019
So far this season, Johnston has been in impressive form despite suffering the injury after the club's win over Rangers in the Old Firm derby two months ago. He was out with a groin injury, but he has appeared 12 times in all competitions this season and has scored five times, racking up four assists on the way too.
Last season, the youngster had played 23 times in all competitions and contributed to six goals.
Elyounoussi, though, has impressed a lot when Johnston was out due to the groin problem. The Norwegian has played 12 times in all competitions this season, racking up seven goals and six assists during this time.
It is in stark contrast to last season at Southampton – the club he had joined in the summer of 2018 from Swiss club Basel. At the Saints last season, he had featured 19 times in all competitions but had failed to score or assist even once.

What do we think?
Johnston and Elyounoussi can't play together on a regular basis. Elyounoussi was a regular on the left wing at Basel in the 2017-18 campaign and impressed with total contributions to 30 goals in 44 appearances. He wasn't used in that position much at St. Mary's and it shows what his best position is.
Johnston too has impressed in that position and his development can't stagnate at the age of 21. He needs to play regularly. But since Celtic have reached the next round of the Europa League, both of them will have their chances, as the season wears on.