Spurs fans were quick to criticise French midfielder Moussa Sissoko on Twitter yesterday after the 30-year-old midfielder's disappointing display in the 2-1 defeat at Manchester United. 
Sissoko struggled alongside Harry Winks in Spurs' midfield duo and was ultimately to blame for United's second goal, as Marcus Rashford breezed past him into the box where the Frenchman caught his ankle to gift the home side a penalty; which Rashford gratefully tucked away.
The 30-year-old has been a regular in Spurs' side so far this season and impressed on the right-hand side against Bournemouth at the weekend but really struggled in a central position against Ole Gunnar Solskjaer's side; picking up a 6.21 rating.
The French international joined Spurs from Newcastle in 2016 and has gone on to make 145 appearances in his three years with the North London club. It was a surprise to see him start in central-midfield against United, however, especially after Mourinho's recent comments on the Frenchman being very different to his needs in that position and perhaps Mourinho will heed his own words after a poor display from Sissoko.
Is Moussa Sissoko good enough for Spurs?
Yes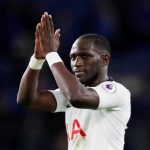 No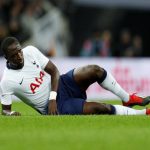 Reaction from Spurs fans to Sissoko's performance can be seen in the tweets below.
Nothing to do with Harry Winks, Sissoko is awful, as always.

— Nemanja (@Nemanja99640020) December 4, 2019
Sissoko and winks should not be starting as our centre mid pairings again not good enough #thfc

— EverythingSpursN17 (@EverythingN17) December 5, 2019
We got rid of Poch cos he'd lost the players. What if last night showed us that aurier isn't good enough, Sissoko is worse, gazza is back up at best, that eriksen wants to go anyway and dele has been injured but was on his way back. What if we sold our soul @NozAhmed #coys #poch

— Ben Cooper (@bencooper77) December 5, 2019
I don't get it man, I think it's just there's no confidence in his fitness atm. Winks and sissoko definitely shouldn't be our starting CM partnership

— Mihir Haria-Shah (@MihirHS215) December 5, 2019
need's to get Lo Celso in the team asap. if he's not starting Saturday I'll be fuming .He can play in a deeper role he did it at Paris . Get sissoko out of the team he can not keep the balll well enough.

— Joe johnson (@jobyava) December 5, 2019
Kane and son were useless. Moura cant play in the league. Sissoko is a liability.

— Matthäus Aurelian (@AurelianTheLost) December 5, 2019
Midfield
Winks is not a 4, tidy and links play. But not Stella sadly
Sissoko- has a good patch. Time to go
Ndombele – needs games but quality
Dier – I'm a fan. But needs games and to get fit
Wanyama- get rid

— Stagish (@stag_tastic) December 5, 2019
Sissoko has been worse than winks

— Markus Guttormsen (@MGuttormsen) December 4, 2019
Please get Winks, Sissoko & Aurier out of my Club

Kane was absolutely anonymous but I'll let him off.

— Aidan  (@Aidan63499469) December 4, 2019
Sissoko is such a waste of a player, great engine, works his socks off but technically he's terrible. And the least said about his decision making the better.

— Richard Maskell (@RMaskell1981) December 4, 2019

Spurs fans were clearly less than impressed with Sissoko's performance, with many hoping to see him dropped ahead of the weekend game against Burnley.
What do we think?
Sissoko, who is valued at £22.5 million (as per Transfermarkt), spent a lot of the game covering for Serge Aurier at right-back when the Ivorian was out of position, which meant that he struggled to influence the game from midfield. Still, Spurs looked more threatening when Tanguy Ndombele was introduced, so it wouldn't be a surprise to see the 22-year-old replace his French compatriot in the starting eleven on Saturday.