Spurs fans were not impressed as their side succumbed to a 2-1 defeat against Manchester United on Wednesday night and it seems as if a lot feel talisman Harry Kane was partly to blame.
The England striker looked anonymous at times as Jose Mourinho's side were completely outplayed on his return to Old Trafford, with only a piece of brilliance from Dele Alli the reason why it was a close scoreline. The 26-year-old has been in superb form for both Spurs and England this season; averaging a 7.3 rating for club and country, but he struggled against United's defensive partnership of Victor Lindelof and Harry Maguire.
Kane has been an unbelievable player for Spurs during his time at the club and his goal-scoring record is very impressive; with 177 goals in 272 games for the North London side. However, he picked up just a 6.59 rating for his performance at Old Trafford, so improvements are clearly needed.
Should Harry Kane be dropped after his performance against United?
Yes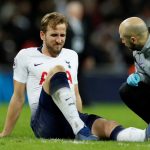 No Reaction from Spurs fans to Kane's performance can be seen in the tweets below.
Harry Kane used to be very consistent. Now when he's great he's amazing but when he's awful, he's shockingly bad.

— JC McLean Spurs (@JCMSpurs) December 5, 2019
Sometimes I forget Harry Kane is playing

— DEL CLAUS NATION (@SunnnySpurs) December 5, 2019
kane was horrendous

— Augustine (@ausnoff) December 5, 2019
I just want an in form Kane. 2 league goals in the last 2 months is not great but what concerns me is the lack of chances he is getting. Therefore it's either our tactics that are impacting him or something is fundamentally wrong. We can't bury our heads and ignore it.

— George Mixides (@GeorgeMixides) December 5, 2019
But Kane is even playing worse than Lucas. I say drop Harry Kane next game

— Aidan (@Aidan63499469) December 4, 2019
Kane looks finished and that is the worst refereeing performance I've ever seen

— Sam Shooter (@samshooter97) December 4, 2019

These Spurs fans were clearly less than impressed with Kane's performance, which received a rating of 6.52 (WhoScored), and will be hoping to see a much-improved display when Mourinho's side take on Burnley.
What do we think?
Even the world's best players have bad games sometimes and Manchester United actually looked very impressive against Spurs at times last night. Spurs really struggled to get hold of the ball and create chances and if they can't create anything then Kane can't do his normal job and tuck them away.