Some Southampton fans are not happy about the club's latest tweet about a goal that Matt Le Tissier scored back in 1994 against then-Premier League side Blackburn Rovers.
Le Tissier, a Saints legend, had found the back of the net from some distance out in the club's game against Rovers. Southampton did lose the game 3-2, but it was Le Tissier who had grabbed a brace in the second-half to bring them right in into the game.
Alan Shearer and Mark Atkins had scored in the first half, before Le Tissier's brace had made it 2-2. But Shearer scored five minutes later and won Blackburn the game at Ewood Park.
Southampton fans: Is Le Tissier the club's greatest goalscorer?
His numbers prove that!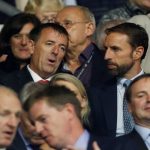 There were better ones The club posted a video of Le Tissier's wonder goal from the game. But Southampton fans feel it wasn't the best goal the striker has ever scored.
He had like ten goals that were better than this one 😉

— Penjami Salmi (@Peqqyy) December 10, 2019
Well, it got premiership goal of the season didn't it? But I'd still say it wasn't his very best.

— Darren Hockey Esq. (@Daz_Hockey) December 10, 2019
#1

— Steve May (@Stevewmay) December 10, 2019
At least show all of the goal! I love the bit when Matt is weaving in and out of players before the shot!
It's defo up there as one of all time great goals to n prem.

— David Warner (@DavidWarner23) December 10, 2019
454th

— FDK (@KerrysonFred) December 10, 2019
146th

— They're all useless (@InwizzibleMan) December 10, 2019
The Saints have had many great players play for them, but Le Tissier has been one of the best in that regard. His goalscoring abilities were second to none and he set the benchmark that many other Saints' strikers have to match for greatness at the club.
As per the Premier League website, Le Tissier had a tally of 100 goals in the competition, while playing as many as 270 goals. He won 80 matches and racked up a tally of 124 losses as well. But in all competitions for the Saints, Le Tissier played 303 times and bagged a tally of 109 goals and five assists for the club.

The England international didn't win a single trophy during his playing career. And could make only eight appearances for the Three Lions, making his debut in 1994 itself. It shows that he never got as much credit as he deserved.
What do we think?
It is fair to say that the club's Twitter post didn't do justice to Le Tissier. He scored many sensational goals that were probably better than the one he scored against Blackburn in 1994, but that is just deserved credit for the Englishman.