According to Wales Online reported via the Chronicle, Newcastle United are being linked with a surprise move for Stoke City's Joe Allen.
The 29-year-old formerly of Swansea City and Liverpool is being tipped to leave Stoke during the upcoming transfer window but could he be on his way to St James' Park?
Allen is said to be keen on a return to the Premier League particularly with the European Championships to come next summer.
Would you like to see Joe Allen in the famous black and white stripes?
Yes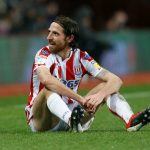 No It appears these Newcastle United fans aren't keen on a move for the player – suggesting it would be perceived as showing lack of ambition.
Scraping the barrel who would have thought it?!

— TMW (@TilehurstsOwn) December 18, 2019
Woah! The ambition has blinded me!!!!!

— Roy Brown Jnr. (@RoyBrownJnr1) December 18, 2019
Probably top of Brucies list????

The bloke thinks Gayle is a Premier League striker.

— Rafa Facts (@FactsRafa) December 18, 2019
Maybe a few years back

— llewellyn pengelly (@whereiswelly) December 18, 2019
No.

— Vaheed Akhtar (@VaheedAkhtar) December 18, 2019
???????????????

— Andrew Potts (@andypotts1981) December 18, 2019

What do we think?
Jokes aside, Joe Allen could probably still be an asset to a Premier League squad despite having spent a number of seasons in the Championship with the Potters. He's appeared in 20 of the clubs 22 league fixtures this season scoring three goals and with his international career in mind, he will be hoping there is still a top-flight club who would be willing to cough up what Stoke City are asking for him.
It's nothing more than a rumour at present but it's clear what the Toon Army think of a potential move – but that's never stopped Mike Ashley doing things before though, has it.