Jonjo Shelvey's late equaliser against a title-challenging Manchester City has now given Liverpool an 11-point gap between them and third-place City.
Shelvey scored in the 88th minute to make the score 2-2, after Manchester City thought they had done enough to get the win, when Kevin De Bruyne scored just six minutes before the Englishman.
Liverpool fans were more than happy to see City dropping points again after the Manchester side has already lost three times in the Premier League this season.
Bleacher Report posted an image to Twitter following the game stating that Shelvey had done it for Liverpool, which led to a number of the Anfield faithful sharing their thoughts.
Would you have Jonjo Shelvey back at Liverpool?
Yes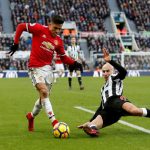 No Jonjo Shelvey did it for Liverpool today pic.twitter.com/PRzVcEeSLC

— B/R Football (@brfootball) November 30, 2019
Best thing he is ever done

— Nick (10-1) (@EgyptianKing112) November 30, 2019
welldone boy

— — (@farouk606) November 30, 2019
he is.

— Jacob Elkins (@JacobBElkins) December 1, 2019
i gonna tell my kids this was Zinedine Zidane pic.twitter.com/kM7diaNmCB

— Alex Turner (@hasbiyahya2) December 1, 2019
Liverpool play Everton next, which is an opportunity for Jurgen Klopp's side to extend their undefeated run to 15 matches.
Legend

— Y. (@vega_punk74) December 1, 2019
Shelvey you're not a hero but a legend

— Sterling Senior (@SeniorSterling) November 30, 2019
So much hatred in the comments. Toxic. Well done, Shelves. YNWA

— ATLien- LFC Supporter (@at_cfan) November 30, 2019
Always has been

— SAMIR MASTER (@samirmaster246) December 1, 2019
Too good for Newcastle really. Wouldnt be suprised if Rodgers pick him up if one of their mf wants to leave

— Dr H. (@doktorilesigara) November 30, 2019
Best thing he is ever done

— Nick (10-1) (@EgyptianKing112) November 30, 2019

What Do We Think?
Shelvey has definitely helped Liverpool on their way to winning the league, although there is still a very long way to go for the club if they are to finally get their hands on the Premier League title; perhaps they will need some help from their other former players still plying their trade in the division for other clubs. However, it was interesting to see him mention Liverpool straight after the game, perhaps a return could be on his mind?