Some Celtic fans aren't regretting that the club let Kieran Tierney and Patrick Roberts go this past summer, as both were on the bench for their new clubs at the weekend.
Tierney did not make an appearance in Arsenal's recent 2-2 draw away to Norwich City and Roberts did not come on from the bench in the Canaries' clash (Guardian).
Roberts was at Parkhead on a loan deal at Parkhead from the 2016-2018, while Tierney is a product of the Hoops youth academy and joined the Gunners this past summer.
Do Celtic miss Tierney or Roberts?
We miss KT We miss Roberts! Glad they're gone!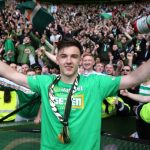 A debate about the players broke out between Celtic fans, who don't regret letting them go and feel that it was their decision to leave the club.
Paddy Roberts and Kieran Tierney a couple of years ago they were the Celtic golden pair now both sitting on the bench at a Norwich Arsenal game. What a tragic waste

— James (@jameshewitt380) December 1, 2019
Tierney was too interested in the cash, he'll be lucky to get a game at Arsenal now…

— Whistleblower (@Whistle14922763) December 1, 2019
Aye will regret it when career overs although Tierney was pushed into bye Lawell

— Graham Maloney (@GrahamMaloney8) December 1, 2019
Both really talented players both prefer money to anything else. I'm sure in a few years they will have what's most important to both them. A bank balance with a lot of 000s

— mick rooney (@mickr48) December 1, 2019
That's what money does to some young footballers. We should probably learn lessons as to who we adore, look at Forrest and McGregor as good examples

— FootballPurist (@AllDoTheHuddle) December 1, 2019
Yeah and Norwich & Arsenal are not even that great at the moment but those boys will be earning £75k a week so they are not too bothered

— spike the wee celtic dug (@Spiketheweedug) December 1, 2019
Tierney, the Hoops youth product, joined Arsenal late in the summer transfer window for a fee of £25million. Since joining the Gunners, Tierney has played nine times in all competitions for the club.
In his last season for the Hoops, Tierney had played 40 times in all competitions for the club. He managed to get one assist and racked up as many as six assists as well. During his time at the club, he played 170 times in all competitions and scored eight times, racking up 37 assists.
As for Roberts, he played 78 times in all competitions for the club. He scored 18 times and racked up as many as 26 assists. After the stint at Parkhead, he was loaned out to Girona last season and is now on loan at Carrow Road.

What do we think?
It is fair to say that the exits of both players hardly left Celtic in a lurch. Once Tierney left, the club did end up signing Greg Taylor from Kilmarnock this past summer. When Roberts left, the club had enough talent in there to replace the former Fulham man.
The fact that the club is still at the top of the league – ahead of Rangers on goal difference. They've made it to the next round of the Europa League by finishing top of their group. It can't get better than that.