In the midst of a shocking run of performances and results, Sunderland fans are becoming increasingly critical of the decisions made by Charlie Methven and Stewart Donald. Of course, supporters still question the players and manager Phil Parkinson but understand that the root of the problem most likely lays in the boardroom.
When one fan indicated that he believed the duo had done a good job on the commercial side of things, other fans were quick to disagree. They aren't willing to give Methven and Donald any praise whatsoever.
Explain to me how free signings, and a cheap alternative manager has been good business for the club please when we sit in bottom half league 1

— bencains (@bencainss) November 28, 2019
Dont trust them in the slightest any more

— Chris~L~F (@Christianfors23) November 28, 2019
Haven't they stated that they part bought the club from short with the parachute payment thereby denying us a significant transfer budget? I stand to be corrected.

— David (@snakefinger99) November 28, 2019
Tell me 1 good thing commercially & business wise they have done. If you talk to the staff they say morale is rock bottom , business wise income is dropping, they have lost the commercial director, attendances are dropping, in the summer they invested zero, concerts gone too !

— Tim (@safctim) November 28, 2019
Would you like to see Sunderland hire a Director of Football?
Yes No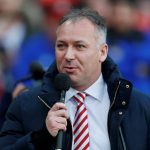 This fan suggests that balancing the books isn't the only aspect of running a successful football club. Another calls for the club to bring in a Director of Football to oversee all footballing operations. That way the owners can focus on making money, while the team itself can put together an isolated plan.
I've been saying this for months! Balancing the books does not make you qualified to run a football club. Eastleigh isn't Sunderland AFC.

— :NeverBornAgain (@johnnyjenko) November 28, 2019
Get a DOF in! Continuity above the manager/coach enables a long term plan to be cemented and helps all football aspects. For me, young coach in, someone dynamic and exciting. Then bring in a BSA or Pearson to be the DOF and guide

— James Fox (@Jamesfoxbass) November 28, 2019
What do we think?
A Director of Football may not be the right choice for every club. It may not even be the right choice for Sunderland, either. However, what is clear is that the situation at the Stadium of Light right now isn't good enough. Perhaps the owners should ask themselves, could it really make the situation any worse?