West Ham fans have been calling for James Collins' return after the Hammers released an interview with the Welshman. 
When speaking during the interview Collins said: "I know by far I wasn't the best player to play for West Ham, but every time I pulled on that shirt, I gave my all." This would appear to be exactly the type of attitude the fans are screaming out for right now in the current squad.
Would you want James Collins as manager?
Yes No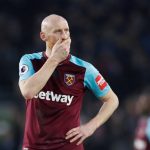 "This Club has been a huge part of my life and always will be."

— West Ham United (@WestHam) November 27, 2019
Always a Hammer ? pic.twitter.com/BVLwDefFFZ

— COYIrons (@COYIrons_com) November 27, 2019
I wish we still had him

— WHUFC COYI (@West_Ham_Wayne) November 27, 2019
Exactly what we are lacking at the minute, passion, heart, charisma, bottle, commitment and the most important EFFORT.

— Jamie (@jamiewhusteele) November 27, 2019
This man should be part of the coaching staff. Give him a job for life.

— Simon B (@donsimon78) November 27, 2019
When asked what he's up to these days Collins said: "I've got a few little bits going on! I've got my football academy and I'm working on the telly a lot." We are sure a lot of fans would like to add manager of West Ham to that list.
Once a hammer always a hammer.

— Phil Simons (@pipjo) November 27, 2019
Can he play Saturday??

— Eugene Gaughan (@eugene_gaughan) November 27, 2019

What Do We Think?
Perhaps James Collins could have the same effect that Frank Lampard has had at Chelsea? It would be throwing him very much in the deep end, however, Collins would certainly have the backing of the fans and it's likely the board would give him until the end of the season anyway.
As he said himself, he may not have been the best ever player to have put on the Claret and Blue shirt for West Ham when playing for them, however his figures show he was an important member of the team when on the field. According to his historical data by WhoScored, Collins managed to achieve 1.4 tackles every game, 1.7 interceptions and a mammoth 9.3 clearances in his 236 fixtures.
Therefore, it's no surprise that many of the Hammers' faithful miss him and wish they could see him playing his football at the London Stadium.