Manchester City are reportedly set to unveil the purchase of Mumbai City in the next 48 hours.  The Indian outfit will become the eighth club within the City Football Group portfolio, with more to follow.
City are also considering moves in Brazil and Mexico – widening their global reach.  The news was reported by the Daily Mail's Jack Gaughan.
Should owners be allowed to control multiple football clubs?
Yes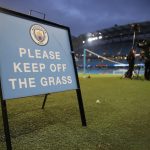 No How have the supporters have reacted to the reports?
Can we get a centre back instead?

— jokerhystericalface (@jokerhysterica2) November 27, 2019
Surely some of these clubs will have a centerback

— Mathias Gudme (@gudme123) November 28, 2019
@EricOli02549334
They are promoting football in India becuse they know India is the future market and 1 third of European league viewers is from https://t.co/Mt44otolhC definitely this is big deal as India is concerned sleeping giant in football.keep calm

— Mehfil (@MehfilMhd) November 28, 2019
Mexico would be dope !

— ?? (@yung_gxd) November 28, 2019
Brazil please

— ?? Bernardooo ? (@mancitymj14) November 28, 2019
An Indian MCFC!

— Stephen Bailey (@Stephen54045660) November 27, 2019

What do we think?
The City Football Group (CFG) are continuing to invest heavily and smartly in the sport and the news they are set to purchase Mumbai City comes in the same week the group announced a £389m investment from US equity firm Silver Lake. India has a huge appetite for football with millions of fans tuning in to watch the European game on a weekly basis and therefore commercially this appears to be a positive step.
CFG currently own Manchester City, New York City F.C., Melbourne City F.C., Club Atletico Torque, Girona and hold shares in Sichuan Jiuniu F.C. and the Yokohama F. Marinos.