OPINION
Arsenal have a formidable attack going into the new Premier League season. 
Despite finishing fifth in the league last season, Pierre-Emerick Aubameyang shared the Golden Boot with Mohamed Salah and Sadio Mane, with 22 goals.
Alexandre Lacazette scored 13 and registered 10 assists.
This summer Unai Emery has added Nicolas Pepe who had a phenomenal season in Ligue 1, scoring 22 goals and adding 11 assists for Lille.
You could argue that Ligue 1 sits somewhere below the standard of the Premier League, but Pepe was one of just two players in the top five European leagues who scored more than 20 goals and registered more than 10 assists – Lionel Messi was the other. Cristiano Ronaldo scored 21 and added eight assists.
According to WhoScored.com, Pepe was second only to Kylian Mbappe in Ligue 1 in their overall rating system, and he scored the second-most goals and provided the second-most assists.
When you stack his numbers up against the existing Arsenal attackers he looks even more impressive.
Attacking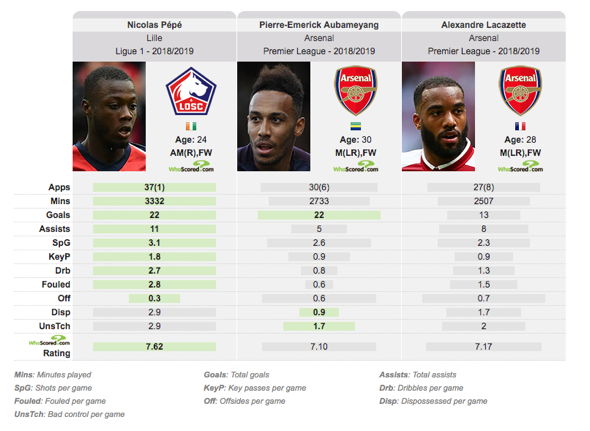 Pepe registered more goals, assists, shots per game and key passes than either of Lacazette or Aubameyang last season.
Passing
In terms of passing, Pepe boasts a clean sweep over his two fellow Arsenal attackers. He's not only got the potential to provide goals but he should open up defences to provide even more chances for Aubameyang and Lacazette. It's an exciting prospect for Arsenal fans.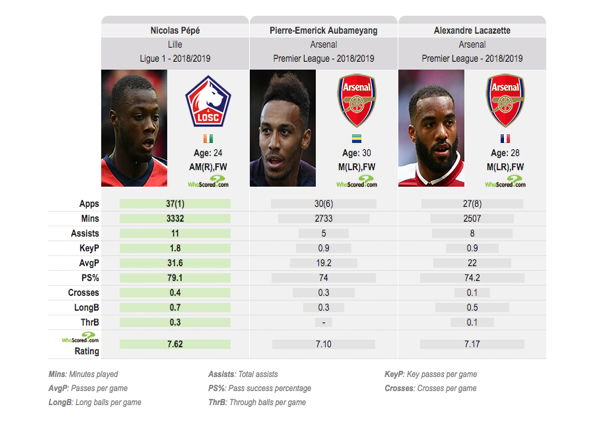 Will he come straight out of the gate for Arsenal? It's unlikely as he was involved in the Africa Cup of Nations for the Ivory Coast.
Unai Emery has said fans will need to be patient and it looks doubtful that he'll start the first game of the season against Newcastle. [Independent]
However, Arsenal fans can expect big things from Pepe when he does reach full fitness and we expect him to be a mainstay in the Gunners attack.