Times journalist George Caulkin believes that Newcastle manager Rafa Benitez is going to move to China this summer. 
This follows a report from the Sun that claimed he was "seriously considering" a £12million offer from Chinese Super League club Dalian Yifang.
Newcastle announced that they hadn't been able to reach an agreement with Benitez and that he would leave when his contract expires on Sunday.
Caulkin got into a discussion on Twitter with a Fulham fan who tried to blame the Newcastle fallout on Benitez.
Caulkin said he was basing his opinion on "years of following the club and building relationships".
He also added "I'm pretty sure he's [Benitez] going to China, but so what. He's out of contract and hasn't been overwhelmed by other offers. You haven't been part of the last 12 years but I have. So I remember the two relegations, Sports Direct Arena, Wonga, Dennis Wise, Keegan being told to look up new signings on YouTube".
Caulkin posted the tweets on Friday afternoon with Benitez set to officially leave his post on Sunday.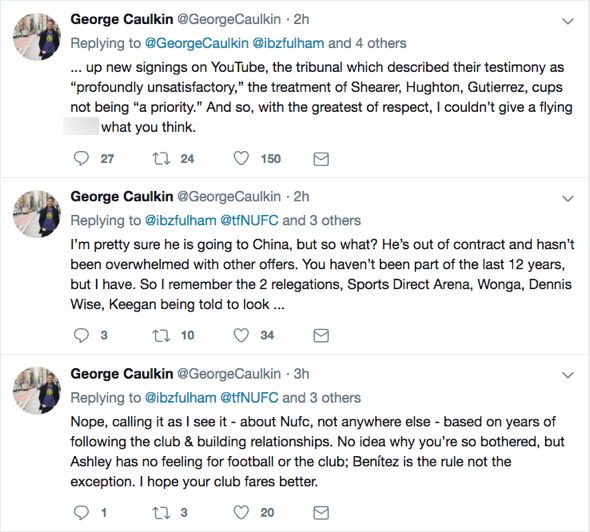 OPINION
If you're going to have a debate with someone about Benitez, it's probably best not to do it with Caulkin, the man who probably knows more about the Newcastle situation than any other journalist. We'll be sad to see Benitez leave Newcastle and the Premier League will be worse off without him. We also think it's a shame that it looks like he's going to end up in China. Benitez is only 59 and should be at a major club fighting for silverware. However, it sounds like the offers he was hoping for haven't come in and in China he'll get double the £6million that he was on at Newcastle. That's some consolation for the way things have worked out with Mike Ashley, but without a takeover and new owners, this was always the likely end. As Caulkin says, Benitez can leave with his head held high and know that the fans will always respect him for what he did at their club.