OPINION
Kieran Trippier has had a really bad season for Spurs and it didn't get any better on Tuesday night as his side slumped to a 1-0 loss – the second in the new stadium in a matter of days. 
Trippier was one of the worst performers for Spurs on the night, and a Squawka stat showed he lost possession 28 times, more than any other player on the pitch.
Tottenham fans didn't need the stats to see how badly he was playing and took to Twitter to berate the 28-year-old right-back, who's come in for sustained criticism this season after an impressive World Cup.
He was taken off after 80 minutes and Juan Foyth was introduced but the young Argentine couldn't magic anything up either and Spurs now have a mountain to climb in Amsterdam next week.
This latest display from Trippier must open up questions about his long-term future at Tottenham. He admitted himself that he hasn't been playing well this season and that he would rediscover his form.
That hasn't happened though and these Tottenham fans have had enough.
Here are the best reactions to his performance against Ajax last night:
I liked Sanchez today and thought Trippier was very bad.

— Chris Miller (@WindyCOYS) April 30, 2019
Trippier was bad! Bad bad bad

— aicher (@aicher1964hap) April 30, 2019
We're playing 34 year old immobile striker Fernando Llorente, a Victor Wanyama who has no knees, and a Kieran Trippier who has no brain. Sure am glad we have that £200m from TV revenue that Ten Hag was talking about!!!!

— Jake. (@YedIin) April 30, 2019
Trippier is garbage and has cost us in multiple ('big') games this season.

Do those that defend him, do so because he doesn't know how to ????

— Steven Meredith (@stevenlmez) May 1, 2019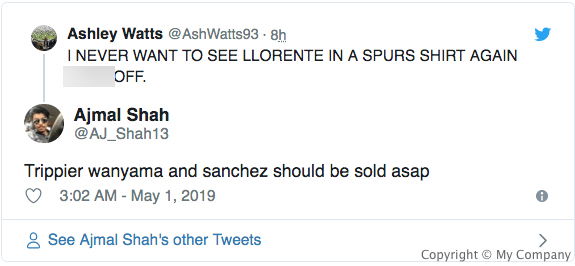 Lucas Moura was ok.
Llorente, Eriksen & Dele were poor.
Trippier was a disaster again ????

— Adan ???????????????????????????????????????????? (@Adan21340291) May 1, 2019
At least Llorente has scored a couple of important goals, trippier is shocking

— Joseph Grant ???? (@Losgrantos) April 30, 2019
Trippier lost the ball 28 times. Twenty Eight!!! Foyth did more in five minutes, 6pts is far too generous.

— MintyBloke (@Mintybloke) April 30, 2019
Hopefully today shows that Trippier isn't good enough for our team, why doesn't Walker-Peters get more of a chance? We can honestly beat them in the 2nd leg#ItsNotOver #Believe #TravelForever

— Andrew Pearce (@andyyido) April 30, 2019
@SpursOfficial did Trippier complete a pass today? Asking for a friend

— Tottenham Bay Lightning (@TottenhamBay) April 30, 2019
Will be surprise if Trippier is still here next season…

— ckc (@alsckc) April 30, 2019
Trippier must not play another game for spurs. He's completely lost the plot. It's gone on to long now. Simply is not good enough

— Michael (@michaelck1972) April 30, 2019