Juventus midfielder Blaise Matuidi sent Tottenham midfielder Moussa Sissoko a heartfelt Instagram message to tell him hard work always pays off.
The Spurs star had previously taken to his personal Instagram to celebrate being named Spurs' Player of the Season by the Tottenham legends, and added that he hoped the best was still yet to come.
"Big honor for me to have been named "Player of the season" by the Spurs Legends' Thanks to all my Teammates, the Staff, the Legends and all the Fans for your help and support during this season, I hope the best is yet to come," said Sissoko.
Sissoko's message led to France teammate Matuidi sending him a four-word Instagram message to claim that work always pays off in order to praise the midfielder for getting his latest accolade.
"Work always pays bro," wrote Matuidi, once translated, via his personal Instagram account.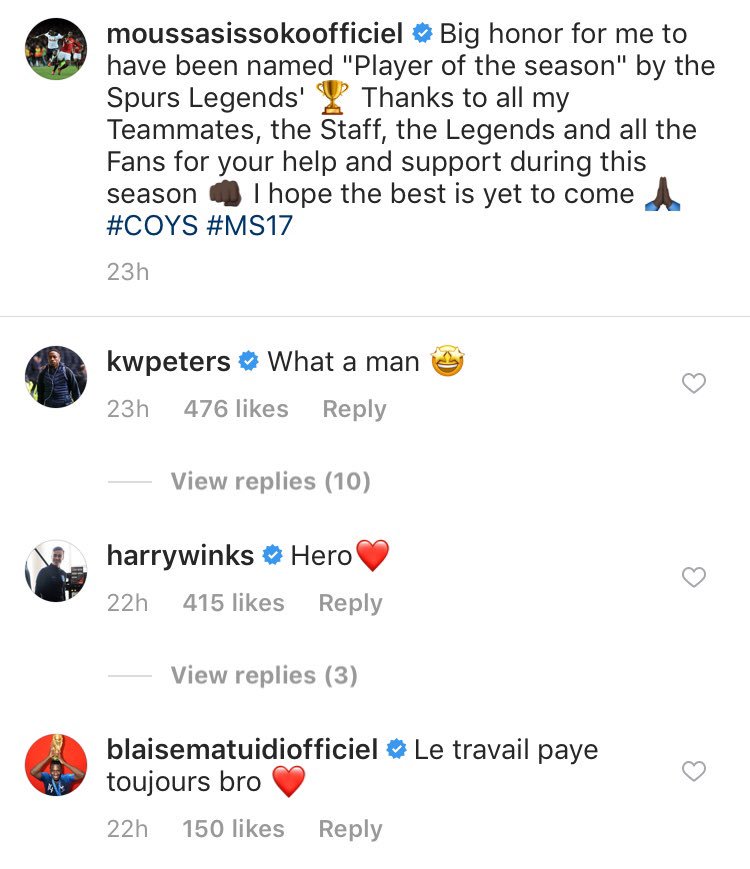 OPINION
It is nice to see two international teammates bonding like this on social media as Matuidi is clearly proud of the way his fellow Frenchman has turned his Spurs career around. No one would have expected Sissoko to win any personal accolades last season let alone get one that is reflection of Tottenham's legendary players rating him. This is because in his 2017/18 campaign, Sissoko struggled to deliver the goods for Mauricio Pochettino's side. The central midfielder featured 47 times, racking up five assists, but due to his poor displays; he wasn't seen as a guaranteed starter. However through hard work and determination, Sissoko's fortunes changed for the better in his 2018/19 season. The midfielder has wowed in his current campaign, appearing 43 times and has effectively been his side's midfield engine. Sissoko has constantly chased down every loose ball, protected his side's defence and also regularly burst forward to help his side push on.