Former Barcelona wonderkid Adrià Bernabé looks to have completed a move to Manchester City, according to his personal Instagram account.
The 17-year-old attacker has updated his display picture to himself in a Man City shirt and also changed his Instagram bio, which states that he's now a Manchester City player after exiting La Liga giants Barca.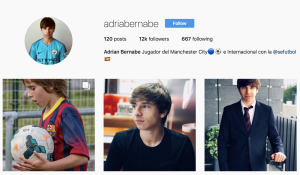 As reported by The Sun, the Spanish attacking midfielder was linked with a move to join Pep Guardiola's side a few weeks ago. However, he officially became a Man City on the 1st July, according to (TransferMarkt) and this is the first confirmation by either club or player.
The former Barcelona player joins an academy that has produced talents such as Phil Foden, Brahim Diaz, Manu Garcia, Kelechi Iheanacho and Angus Gunn in recent seasons.
OPINION
This signing proves that Manchester City are serious about producing quality players through their academy system. It also shows the style of football that Pep Guardiola is playing with the first-team is also translating down through the age groups, which allows those youngsters to fit more easily into senior football. This isn't the first signing from Barcelona, and it won't be the last, but it shows the commitment that the club has in developing young players. Man City's academy has long been thought of as one of the best in the country and has produced a lot of English talent over the years including Micheal Johnson, Micah Richards, Daniel Sturridge, Ben Mee and Kieran Trippier. However, it now looks like the club is set on developing not only English talent, but European youngsters too. Will we see the Bernable in the first-team fold in a few seasons? Possibly, if Pep Guardiola is still at the club.