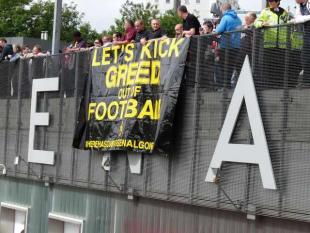 Arsene Wenger out? Are you all mad? What are you all thinking? When Cesc Fabregas left us we bought Mikel Arteta when Samir Nasri left, we bought Gervinho and when Robin Van Persie left we bought Olivier Giroud. When Wenger leaves who comes in? In this article I will explore the real options in a world without Wenger.
Option number one, A Spaniard that has been linked with the top jobs all across the country, no its not pep Guidiola, its Roberto Martinez, widely tipped for the Liverpool job last summer, before being piped to the post by Brendan Rodgers. Roberto has his current team" Wigan Athletic" playing the sort of football that has become accustomed to at the Emirate's (passing the ball around the goal until dispossessed by the opposition) although his love for Wigan does burn strong and he has proved this by sticking with his side when Aston villa (a much bigger club) came calling. Maybe he could teach the better Arsenal players about loyalty and maybe he will actually be able to keep players at the club. All in all, maybe it's not a bad fit for Arsenal. But would Manchester United or Chelsea bring in a manger from Wigan? No.
Michael Laudrup is a big name at a small club. Laudrup again, brings a style of play that is pleasing to the eye and focuses on passing attacking football that brings goals.He would probably be a good fit. Like Wenger, he can see a bargain in the transfer market. Michu for £2m! What a steal! If he can score 15 goals this term, then what a signing he will have been. But that's not Laudrup's only good signing. He then brought in Chico and De Guzman, one adding steel to the defense, the latter bringing energy to the midfield. Michael Laudrup has brought a balance to Swansea, something that Arsenal currently lack in my opinion. My final point: Michael Laudrup was a big player who played for many big clubs. He knows what's needed to succeed, but could he install this in the current Arsenal team? I am not so sure.
But with those two examples in mind, are you ready to turn your back on Wenger? Imagine going out to buy a car, when you already own a Bentley (insert David Bentley joke here). Do you go out and buy a car that's like a Bentley to replace it? No, you buy an upgraded version. You get something better than you currently have. Arsenal won't do this. They won't go out and get a big name proven manager and every Arsenal fan knows it. So, before you think 'Wenger out', just picture the alternatives. Introducing the neat little app that'll pay you to view content tailored to your interests: ThisisFutbol.com are seeking new writers to join the team! If you're passionate about football, drop us a line at "thisisfutbol.com@snack-media.com" to learn more.