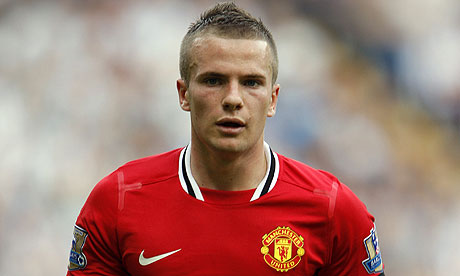 If I knew of a young player with Premier League experience who played as an attacking-midfielder for Man Utd and England, I would expect him to have such ability that to compare him to anybody else would be an insult. If I came up against this player in a 5-a-side tournament, I would expect him to make my team mates and I look very silly as he eased his way past us. I would expect him to have such flair that he would be able to unlock a defence made by the world's greatest locksmiths.
To put it simply, I would expect him to be as good as Paul Scholes was when he was in his early twenties. That's the standard. We are talking about Manchester United and England after all. If we look at other countries, Messi is this kind of player and so is Ronaldo. Oscar is proving to be quite handy for Brazil and on more than a few occasions in his career, Andres Iniesta has looked like this sort of player for Spain. This is not a comparison of players, but a comparison of countries. Currently, England are ranked third in the world and yet do not have an attacking midfield outlet they can really rely on unlike all the other supposedly 'weaker' countries.
One player who does not match this description however, is Tom Cleverley. He is of course, the player I was hinting at in the opening paragraph and unfortunately this boy does not posses the talent of any of the aforementioned players. While he has had many a good game for United (most notably his debut against Man City where he cut one of the best defences in the world to shreds), he has had even more poor ones; when Man Utd lost to Wigan last season, Cleverley was sent on at the interval to change a game where they were being played off the park. Instead, he ended up conceding the corner from which Wigan got their winner. Even more recently, Cleverley struggled against a Ukraine team whose best player is a dinosaur known as Andriy Shevchenko, who you may remember was once the best striker in the world.
Don't confuse my intentions here. This article is not a shot a Cleverley. He may be inconsistent but he is on the whole a very capable footballer. Maybe he'll be more than that one day but the purpose of this article is to outline how bleak the future is for England. If this lad is the best England can produce then how exactly are we going to rise from the mediocre level I think we can all agree England are currently at? How many other top nations' teams would Cleverley get in to?
Some of you may be writing off this article thinking that Adam Johnson is the best attacking midfielder England have. Again, this lad is closer to average than extraordinary and at 25-years-old, has only just started playing first team football (at bloody Sunderland!) after being on the fringes of the Man City team for most of his career. Surely an attacking midfielder in the England team should be a starter for City? Apparently not.
Until either every other country becomes crap, or England start producing attacking midfielders of an enviable standard, penalty shoot out defeats in the early knock-out rounds of international competitions are the best we can hope for. Not only should be be better than this, but we deserve better than this!
Follow me on Twitter: @DimitriSotirios
Please follow @ThePerfectPass for more football related action! Introducing the neat little app that'll pay you to view content tailored to your interests: